S-a dat startul înscrierilor pentru Conferința Great People Inside: HR Mastery in the Digital Era, singurul eveniment internațional de resurse umane care s-a desfășurat timp de 15 ani consecutiv în România.
A patra revoluție industrială se află încă în stadiu incipient, o multitudine de procese HR fiind reevaluate sau chiar reinventate. Departamentele de resurse umane și organizațiile se confruntă cu o provocare majoră în încercarea de a se adapta digitalizării, păstrându-și, în același timp, componenta creativă și inovativă. Principiile tradiționale de management și leadership nu au fost proiectate pentru această nouă eră digitală, iar, din acest motiv, suntem pe punctul de a redefini întregul concept de management al talentelor. Există o schimbare evidentă în privința produselor și serviciilor HR, majoritatea instrumentelor de performanță aflându-se într-o tranziție către Cloud.
Conferința Great People Inside: HR Mastery in the Digital Era, ce va avea loc pe 10 și 11 octombrie la Hotel Kronwell, Brașov, România, va genera discuții interesante și provocatoare despre amploarea schimbărilor tehnologice actuale, efectele acestora asupra locurilor de muncă și implicațiile pentru domeniul HR, angajați și organizații.
Un concept unic ce reunește reprezentanți ai mediului de afaceri, antreprenori, manageri, specialiști și cercetători din domeniul resurselor umane din toate industriile, psihologi, reprezentanți ai Camerelor de Comerț, ai autorităților centrale și locale, ai marilor companii de consultanță, precum și experți cu renume internațional din Statele Unite ale Americii, Canada, Republica Cehă, Italia, Spania și Lituania.
Programul de două zile combină în mod interesant prezentări tematice, conversații îndrăznețe și discuții de grup, cu scopul de a descoperi tehnicile, strategiile și practicile ce vor defini succesul în viitorul apropiat, eliminând incertitudinile unui astfel de moment de tranziție și pregătindu-vă pentru schimbările rapide ce au loc pe piața muncii.​
Un eveniment dedicat împărtășirii de idei, inspirație și informație despre viitorul muncii.
Pentru mai multe detalii, vă rugăm accesați site-ul conferinței.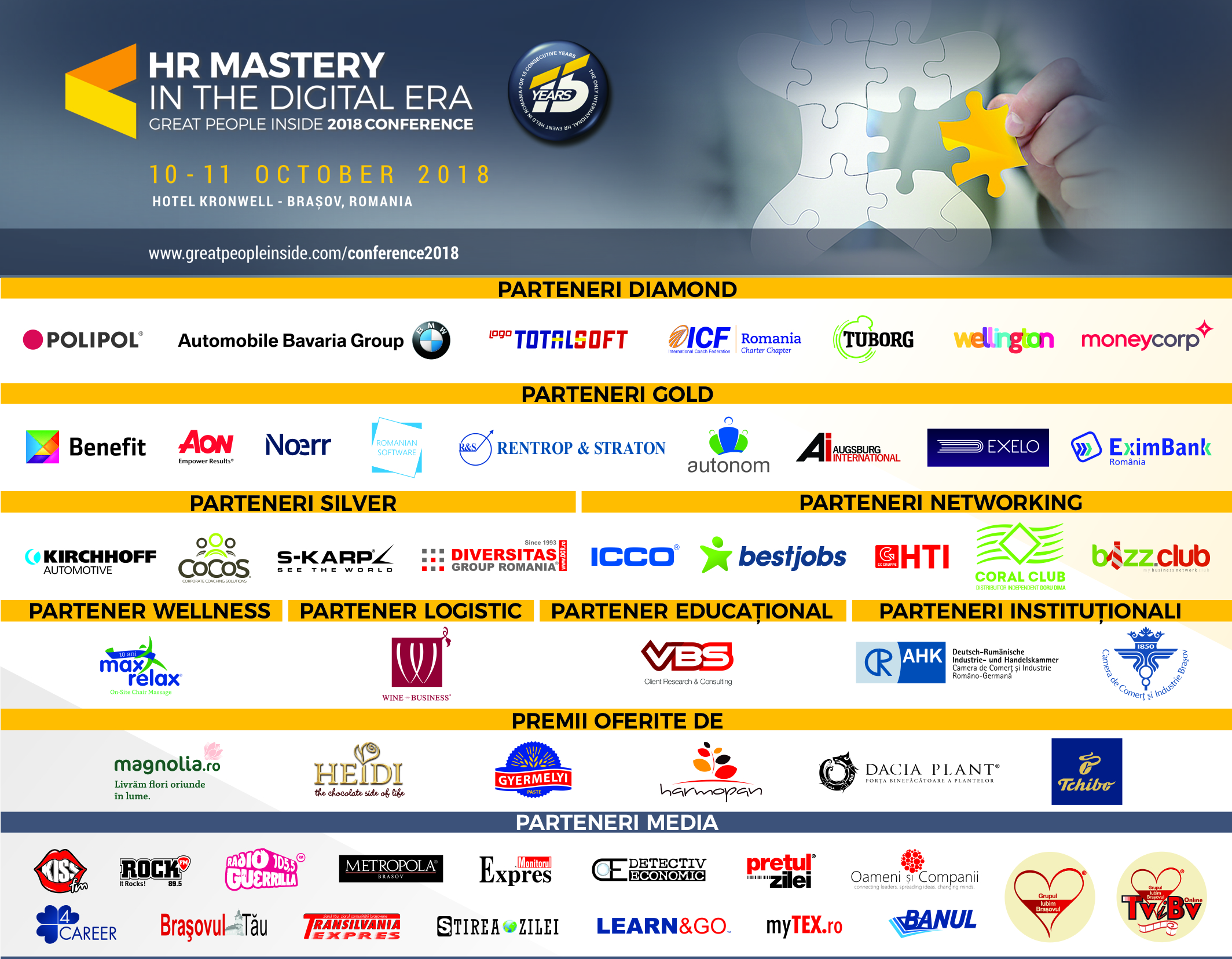 https://greatpeopleinside.com/ro/wp-content/uploads/2018/09/conference-popup-01.png
586
815
great people inside
https://greatpeopleinside.com/ro/wp-content/uploads/2020/01/logo_greatpeopleinside_01.png
great people inside
2018-09-06 15:25:53
2018-10-15 12:54:23
Conferința Great People Inside "HR Mastery in the Digital Era", 10-11 octombrie 2018, Hotel Kronwell, Brașov, România