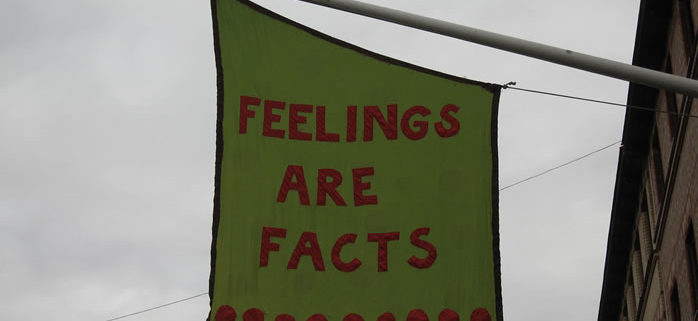 (This article is a part of a series; please start here)
Feelings are natural, they are not a flaw. We are wired to feel down, empty, nervous, anxious or furious. Don't blame yourself.
When you're happy, content or joyous you never second-guess your feelings, do you? Why would you do that when you're down, adding a supplementary layer of negative? Aren't they all the same: feelings?
It bugged me since I was a kid, hearing "You shouldn't feel [down, unhappy, sad], think of all the kids out there who don't have half of what you have!" I couldn't point out why, but I was (at least) annoyed. It was like my feelings should have had some kind of universal scale of measurement and go through a global referendum, in order for said feelings to be "valid".
Nature wired us for feeling emotions. "Bad" emotions are like "bad" breathing – they don't exist. Fury, anger, sadness, desperation – all are natural. They are what they are and they make you feel what they make you feel. You cannot deny, choke or feint them – at least not forever. They are your emotions, and are natural (acting on them is another thing entirely…).
You don't have to feel anything. What you feel is what you feel. Numbness is what should get you worried.
So, let feelings be. They are Mother Nature's way of letting us know something isn't quite right. Just like breaking the bulb of an alarm lamp does not make things right, denying feelings serves no purpose. Notice your feelings, give them names, get friendly with them. Just don't act on them.
Do you want to find out more? Get in touch with a consultant now or request a free demo!

By Catalin Octavian Blaga – Trainer Great People Inside
Trainer who turns business experience and psychology into impacting training programs… and more!  You can find out more about Catalin by clicking here
https://greatpeopleinside.com/wp-content/uploads/2016/08/Stress-Catalin-Blaga.jpg
400
698
great people inside
https://greatpeopleinside.com/wp-content/uploads/2020/01/logo_greatpeopleinside_01.png
great people inside
2016-08-05 16:07:15
2017-02-15 16:14:34
Dealing With Stress, Step 2: Feelings are natural