Since 2009, over 16 billion dollars have been invested in HR technologies, 6, 5 billion of which have been invested just in the last couple of years. (Source: CB Insights/cbinsights.com). At this rate, it has been estimated that investments in the global human resource management (HRM) sector will reach 30 billion dollars by 2025.
In other words, the creation of innovative HR solutions is in a continuous expansion, whilst the field of human resources is currently experiencing a fantastic influx of innovation. The business landscape is changing fast due to technological advancements, extensive disruptions in the labor market and geopolitical uncertainties.
With the sheer amount of technology now used in the workplace, we are almost spoilt for choice, but that constitutes a problem in itself. With so many technological choices and data available, we haven't figured yet how to best use or interpret it all. Thus, processes need to be simplified. Data is essential to the success of every business, but too much is going to disrupt a company's activity. Instead, the focus should be on better understanding of what is and isn't useful, concentrating solely on what data really matters. Less is more, as they say.
Therefore, how is the work environment evolving in order to tackle such problems? And can they be solved once and for all?
How can we make sure business and employees alike are prepared to take full advantage of what the future world of work has to offer?
The answer to all these questions, and many more, can be found by participating at the Great People Inside Conference "Visionary HR", which will be held on the 9th and 10th of October 2019 at Kronwell Hotel in Brasov, Romania.
The conference now at its XVIth consecutive edition represents the most prestigious HR event in Romania and its putting together an impressive speaker line-up, gathering experts from Belgium, Netherlands, Greece, United States of America, but also Romania's most prominent HR executives and innovators, a community of hundreds of decision makers, visionaries, entrepreneurs, technology buyers, and disruptors who create the future of work.
The event will feature high-profile Key Note Speakers like: Wilmar Schaufeli, one of the authors for the Job-Demands Resouces model, the most popular one in organizational health psychology. His main research field is occupational health psychology. Initially, he was interested in job stress and burnout but currently he also focuses on positive occupational health, notably work engagement. He is one of the authors of the Job-Demands Resources model, which is currently the most popular model in occupational health psychology. With over 500 articles, chapters and books, Dr. Schaufeli is a prolific Highly Cited Researcher, ranking among the top 1% in his field.
William G. Harris, CEO at Association of Test Publishers (ATP), the leading global trade organization for publishers, developers, and users of assessment programs for the purpose of education, certification, and licensure. Besides the fact that he is a licensed psychologist, Dr. Harris is an internationally recognized advocate and expert for the assessment community on data protection, privacy, copyright, and technology-based assessment standards. Dr. Harris's responsibilities include the development and execution of the ATP global strategic plan.
Besides the two top names who are coming for the 1st time at the Great People Inside Conference, we will be welcoming back, upon express request from our participants, one of the most successful speakers from our previous editions: Dan Hill, the internationally recognized expert in reading facial microexpressions through the facial coding, tool made famous by the hit series "Lie to Me" and bestseller "Blink" and he will present his latest research during the conference in Brasov.
Come and meet the leaders who are not only thinking about the solutions for the changes ahead, but actually laying the foundation for that future today.
For more details about the event please access: http://greatpeopleinside.com/conference2019/en/home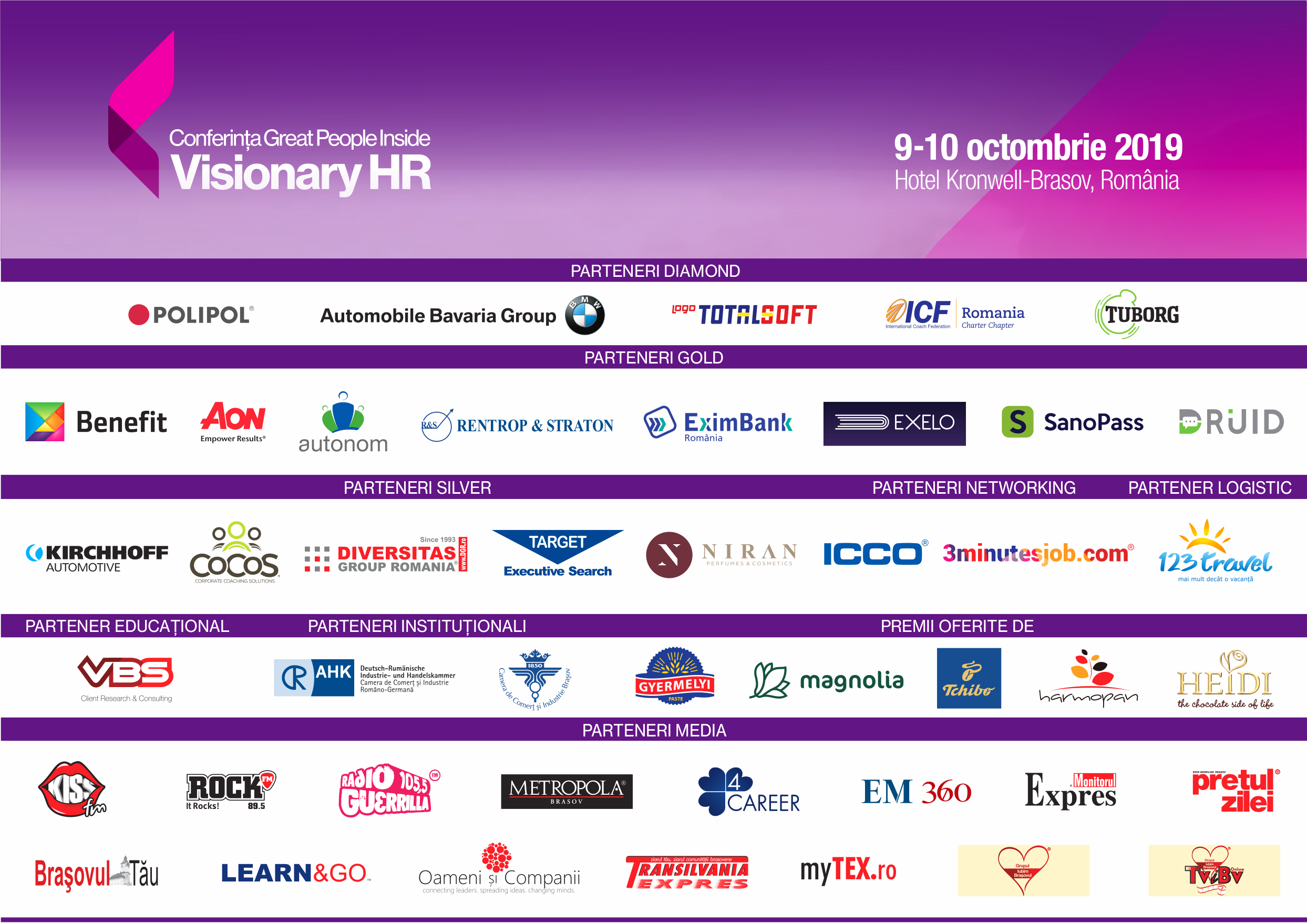 https://greatpeopleinside.com/wp-content/uploads/2019/09/66825560_2218777478433341_4854328851490144256_o-1030x381.png
381
1030
Laura Dragne
https://greatpeopleinside.com/wp-content/uploads/2020/01/logo_greatpeopleinside_01.png
Laura Dragne
2019-09-03 11:12:38
2020-09-07 12:44:34
Internationally acclaimed experts in HR at the Great People Inside Conference: Visionary HR