For employee development, induction and talent management
The GR8 Productivity Gap is a great tool for showcasing the evolution of any given employee over time. By contrasting two assessments made before and after training, it allows you to analyse both your employees' development and their involvement in the process as well. With that in mind, this assessment can then be used as an instrument for streamlining employee development and talent management programmes.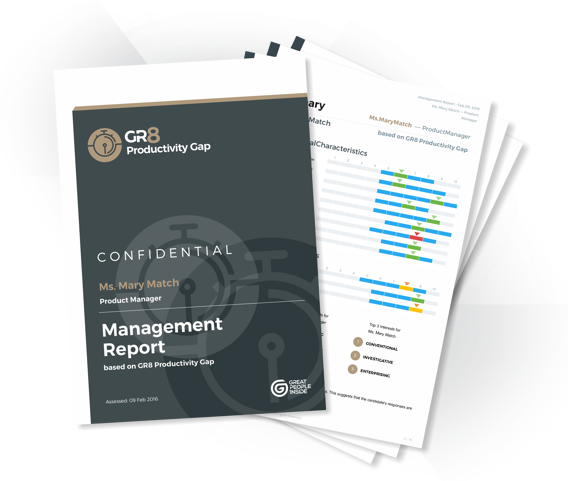 Assessment Dimensions:
Behaviours:
Conscientiousness | Stability | Openness to Experience |
Energy | Objectiveness | Resilience | Tenacity |
Extraversion | Agreeableness |
Ocupational Interests:
Artistic | Social | Conventional | Realistic |
Investigative | Enterprising | Integrity
Cognitive Plus:
Working with numbers Plus | Working with words Plus | Reasoning Plus
GR8 Productivity Gap is recommended for:
Employee retention
Development of management competencies, skills and behaviours
Strategic Workforce planning
Induction and Succession planning
Coaching and personal development
Talent Management programmes
We have an impressive assessment library with hundreds of dimensions that can be leveraged in creating a custom skills-based assessment that supports your organisation's specific competencies and unique vision. Please contact us for the full catalog of dimensions.

Begin Your Great Experience Today!