Deprecated
: Function get_magic_quotes_gpc() is deprecated in
/www/wwwroot/greatpeopleinside.com/conference2019/wp-includes/formatting.php
on line
2720
Deprecated
: Function get_magic_quotes_gpc() is deprecated in
/www/wwwroot/greatpeopleinside.com/conference2019/wp-includes/formatting.php
on line
2720
Deprecated
: Function get_magic_quotes_gpc() is deprecated in
/www/wwwroot/greatpeopleinside.com/conference2019/wp-includes/formatting.php
on line
2720
Deprecated
: Function get_magic_quotes_gpc() is deprecated in
/www/wwwroot/greatpeopleinside.com/conference2019/wp-includes/formatting.php
on line
2720
Deprecated
: Function get_magic_quotes_gpc() is deprecated in
/www/wwwroot/greatpeopleinside.com/conference2019/wp-includes/formatting.php
on line
2720
Deprecated
: Function get_magic_quotes_gpc() is deprecated in
/www/wwwroot/greatpeopleinside.com/conference2019/wp-includes/formatting.php
on line
2720
Deprecated
: Function get_magic_quotes_gpc() is deprecated in
/www/wwwroot/greatpeopleinside.com/conference2019/wp-includes/formatting.php
on line
2720
Deprecated
: Function get_magic_quotes_gpc() is deprecated in
/www/wwwroot/greatpeopleinside.com/conference2019/wp-includes/formatting.php
on line
2720
Deprecated
: Function get_magic_quotes_gpc() is deprecated in
/www/wwwroot/greatpeopleinside.com/conference2019/wp-includes/formatting.php
on line
2720
Deprecated
: Function get_magic_quotes_gpc() is deprecated in
/www/wwwroot/greatpeopleinside.com/conference2019/wp-includes/formatting.php
on line
2720
Deprecated
: Function get_magic_quotes_gpc() is deprecated in
/www/wwwroot/greatpeopleinside.com/conference2019/wp-includes/formatting.php
on line
4826
Deprecated
: Function get_magic_quotes_gpc() is deprecated in
/www/wwwroot/greatpeopleinside.com/conference2019/wp-includes/formatting.php
on line
4826
Deprecated
: Function get_magic_quotes_gpc() is deprecated in
/www/wwwroot/greatpeopleinside.com/conference2019/wp-includes/formatting.php
on line
4826
Deprecated
: Function get_magic_quotes_gpc() is deprecated in
/www/wwwroot/greatpeopleinside.com/conference2019/wp-includes/formatting.php
on line
2720
Deprecated
: Function get_magic_quotes_gpc() is deprecated in
/www/wwwroot/greatpeopleinside.com/conference2019/wp-includes/formatting.php
on line
2720
Deprecated
: Function get_magic_quotes_gpc() is deprecated in
/www/wwwroot/greatpeopleinside.com/conference2019/wp-includes/formatting.php
on line
2720
Deprecated
: Function get_magic_quotes_gpc() is deprecated in
/www/wwwroot/greatpeopleinside.com/conference2019/wp-includes/formatting.php
on line
2720
Deprecated
: Function get_magic_quotes_gpc() is deprecated in
/www/wwwroot/greatpeopleinside.com/conference2019/wp-includes/formatting.php
on line
2720
Deprecated
: Function get_magic_quotes_gpc() is deprecated in
/www/wwwroot/greatpeopleinside.com/conference2019/wp-includes/formatting.php
on line
2720
Deprecated
: Function get_magic_quotes_gpc() is deprecated in
/www/wwwroot/greatpeopleinside.com/conference2019/wp-includes/formatting.php
on line
2720
Deprecated
: Function get_magic_quotes_gpc() is deprecated in
/www/wwwroot/greatpeopleinside.com/conference2019/wp-includes/formatting.php
on line
2720
Deprecated
: Function get_magic_quotes_gpc() is deprecated in
/www/wwwroot/greatpeopleinside.com/conference2019/wp-includes/formatting.php
on line
2720
Deprecated
: Function get_magic_quotes_gpc() is deprecated in
/www/wwwroot/greatpeopleinside.com/conference2019/wp-includes/formatting.php
on line
2720
Deprecated
: Function get_magic_quotes_gpc() is deprecated in
/www/wwwroot/greatpeopleinside.com/conference2019/wp-includes/formatting.php
on line
2720
Deprecated
: Function get_magic_quotes_gpc() is deprecated in
/www/wwwroot/greatpeopleinside.com/conference2019/wp-includes/formatting.php
on line
2720
Deprecated
: Function get_magic_quotes_gpc() is deprecated in
/www/wwwroot/greatpeopleinside.com/conference2019/wp-includes/formatting.php
on line
2720
Deprecated
: Function get_magic_quotes_gpc() is deprecated in
/www/wwwroot/greatpeopleinside.com/conference2019/wp-includes/formatting.php
on line
2720
Deprecated
: Function get_magic_quotes_gpc() is deprecated in
/www/wwwroot/greatpeopleinside.com/conference2019/wp-includes/formatting.php
on line
2720
Deprecated
: Function get_magic_quotes_gpc() is deprecated in
/www/wwwroot/greatpeopleinside.com/conference2019/wp-includes/formatting.php
on line
2720
Deprecated
: Function get_magic_quotes_gpc() is deprecated in
/www/wwwroot/greatpeopleinside.com/conference2019/wp-includes/formatting.php
on line
2720
Deprecated
: Function get_magic_quotes_gpc() is deprecated in
/www/wwwroot/greatpeopleinside.com/conference2019/wp-includes/formatting.php
on line
2720
Deprecated
: Function get_magic_quotes_gpc() is deprecated in
/www/wwwroot/greatpeopleinside.com/conference2019/wp-includes/formatting.php
on line
2720
Deprecated
: Function get_magic_quotes_gpc() is deprecated in
/www/wwwroot/greatpeopleinside.com/conference2019/wp-includes/formatting.php
on line
2720
Deprecated
: Function get_magic_quotes_gpc() is deprecated in
/www/wwwroot/greatpeopleinside.com/conference2019/wp-includes/formatting.php
on line
2720
Deprecated
: Function get_magic_quotes_gpc() is deprecated in
/www/wwwroot/greatpeopleinside.com/conference2019/wp-includes/formatting.php
on line
2720
Deprecated
: Function get_magic_quotes_gpc() is deprecated in
/www/wwwroot/greatpeopleinside.com/conference2019/wp-includes/formatting.php
on line
2720
Deprecated
: Function get_magic_quotes_gpc() is deprecated in
/www/wwwroot/greatpeopleinside.com/conference2019/wp-includes/formatting.php
on line
2720
Deprecated
: Function get_magic_quotes_gpc() is deprecated in
/www/wwwroot/greatpeopleinside.com/conference2019/wp-includes/formatting.php
on line
2720
Deprecated
: Function get_magic_quotes_gpc() is deprecated in
/www/wwwroot/greatpeopleinside.com/conference2019/wp-includes/formatting.php
on line
2720
Deprecated
: Function get_magic_quotes_gpc() is deprecated in
/www/wwwroot/greatpeopleinside.com/conference2019/wp-includes/formatting.php
on line
2720
Deprecated
: Function get_magic_quotes_gpc() is deprecated in
/www/wwwroot/greatpeopleinside.com/conference2019/wp-includes/formatting.php
on line
2720
Deprecated
: Function get_magic_quotes_gpc() is deprecated in
/www/wwwroot/greatpeopleinside.com/conference2019/wp-includes/formatting.php
on line
2720
Deprecated
: Function get_magic_quotes_gpc() is deprecated in
/www/wwwroot/greatpeopleinside.com/conference2019/wp-includes/formatting.php
on line
2720
Deprecated
: Function get_magic_quotes_gpc() is deprecated in
/www/wwwroot/greatpeopleinside.com/conference2019/wp-includes/formatting.php
on line
2720
Deprecated
: Function get_magic_quotes_gpc() is deprecated in
/www/wwwroot/greatpeopleinside.com/conference2019/wp-includes/formatting.php
on line
2720
Deprecated
: Function get_magic_quotes_gpc() is deprecated in
/www/wwwroot/greatpeopleinside.com/conference2019/wp-includes/formatting.php
on line
2720
Deprecated
: Function get_magic_quotes_gpc() is deprecated in
/www/wwwroot/greatpeopleinside.com/conference2019/wp-includes/formatting.php
on line
2720
Deprecated
: Function get_magic_quotes_gpc() is deprecated in
/www/wwwroot/greatpeopleinside.com/conference2019/wp-includes/formatting.php
on line
2720
Deprecated
: Function get_magic_quotes_gpc() is deprecated in
/www/wwwroot/greatpeopleinside.com/conference2019/wp-includes/formatting.php
on line
2720
Deprecated
: Function get_magic_quotes_gpc() is deprecated in
/www/wwwroot/greatpeopleinside.com/conference2019/wp-includes/formatting.php
on line
2720
Deprecated
: Function get_magic_quotes_gpc() is deprecated in
/www/wwwroot/greatpeopleinside.com/conference2019/wp-includes/formatting.php
on line
2720
Deprecated
: Function get_magic_quotes_gpc() is deprecated in
/www/wwwroot/greatpeopleinside.com/conference2019/wp-includes/formatting.php
on line
2720
Deprecated
: Function get_magic_quotes_gpc() is deprecated in
/www/wwwroot/greatpeopleinside.com/conference2019/wp-includes/formatting.php
on line
2720
Deprecated
: Function get_magic_quotes_gpc() is deprecated in
/www/wwwroot/greatpeopleinside.com/conference2019/wp-includes/formatting.php
on line
2720
Deprecated
: Function get_magic_quotes_gpc() is deprecated in
/www/wwwroot/greatpeopleinside.com/conference2019/wp-includes/formatting.php
on line
2720
Deprecated
: Function get_magic_quotes_gpc() is deprecated in
/www/wwwroot/greatpeopleinside.com/conference2019/wp-includes/formatting.php
on line
2720
Deprecated
: Function get_magic_quotes_gpc() is deprecated in
/www/wwwroot/greatpeopleinside.com/conference2019/wp-includes/formatting.php
on line
2720
Deprecated
: Function get_magic_quotes_gpc() is deprecated in
/www/wwwroot/greatpeopleinside.com/conference2019/wp-includes/formatting.php
on line
2720
Deprecated
: Function get_magic_quotes_gpc() is deprecated in
/www/wwwroot/greatpeopleinside.com/conference2019/wp-includes/formatting.php
on line
2720
Deprecated
: Function get_magic_quotes_gpc() is deprecated in
/www/wwwroot/greatpeopleinside.com/conference2019/wp-includes/formatting.php
on line
2720
Deprecated
: Function get_magic_quotes_gpc() is deprecated in
/www/wwwroot/greatpeopleinside.com/conference2019/wp-includes/formatting.php
on line
2720
Deprecated
: Function get_magic_quotes_gpc() is deprecated in
/www/wwwroot/greatpeopleinside.com/conference2019/wp-includes/formatting.php
on line
2720
Deprecated
: Function get_magic_quotes_gpc() is deprecated in
/www/wwwroot/greatpeopleinside.com/conference2019/wp-includes/formatting.php
on line
2720
Deprecated
: Function get_magic_quotes_gpc() is deprecated in
/www/wwwroot/greatpeopleinside.com/conference2019/wp-includes/formatting.php
on line
2720
Deprecated
: Function get_magic_quotes_gpc() is deprecated in
/www/wwwroot/greatpeopleinside.com/conference2019/wp-includes/formatting.php
on line
2720
Deprecated
: Function get_magic_quotes_gpc() is deprecated in
/www/wwwroot/greatpeopleinside.com/conference2019/wp-includes/formatting.php
on line
2720
Deprecated
: Function get_magic_quotes_gpc() is deprecated in
/www/wwwroot/greatpeopleinside.com/conference2019/wp-includes/formatting.php
on line
2720
Deprecated
: Function get_magic_quotes_gpc() is deprecated in
/www/wwwroot/greatpeopleinside.com/conference2019/wp-includes/formatting.php
on line
2720
Deprecated
: Function get_magic_quotes_gpc() is deprecated in
/www/wwwroot/greatpeopleinside.com/conference2019/wp-includes/formatting.php
on line
2720
Deprecated
: Function get_magic_quotes_gpc() is deprecated in
/www/wwwroot/greatpeopleinside.com/conference2019/wp-includes/formatting.php
on line
2720
Deprecated
: Function get_magic_quotes_gpc() is deprecated in
/www/wwwroot/greatpeopleinside.com/conference2019/wp-includes/formatting.php
on line
2720
Deprecated
: Function get_magic_quotes_gpc() is deprecated in
/www/wwwroot/greatpeopleinside.com/conference2019/wp-includes/formatting.php
on line
2720
Deprecated
: Function get_magic_quotes_gpc() is deprecated in
/www/wwwroot/greatpeopleinside.com/conference2019/wp-includes/formatting.php
on line
2720
Deprecated
: Function get_magic_quotes_gpc() is deprecated in
/www/wwwroot/greatpeopleinside.com/conference2019/wp-includes/formatting.php
on line
2720
Deprecated
: Function get_magic_quotes_gpc() is deprecated in
/www/wwwroot/greatpeopleinside.com/conference2019/wp-includes/formatting.php
on line
2720
Deprecated
: Function get_magic_quotes_gpc() is deprecated in
/www/wwwroot/greatpeopleinside.com/conference2019/wp-includes/formatting.php
on line
2720
Deprecated
: Function get_magic_quotes_gpc() is deprecated in
/www/wwwroot/greatpeopleinside.com/conference2019/wp-includes/formatting.php
on line
2720
Deprecated
: Function get_magic_quotes_gpc() is deprecated in
/www/wwwroot/greatpeopleinside.com/conference2019/wp-includes/formatting.php
on line
2720
Deprecated
: Function get_magic_quotes_gpc() is deprecated in
/www/wwwroot/greatpeopleinside.com/conference2019/wp-includes/formatting.php
on line
2720
Deprecated
: Function get_magic_quotes_gpc() is deprecated in
/www/wwwroot/greatpeopleinside.com/conference2019/wp-includes/formatting.php
on line
2720
Deprecated
: Function get_magic_quotes_gpc() is deprecated in
/www/wwwroot/greatpeopleinside.com/conference2019/wp-includes/formatting.php
on line
2720
Deprecated
: Function get_magic_quotes_gpc() is deprecated in
/www/wwwroot/greatpeopleinside.com/conference2019/wp-includes/formatting.php
on line
2720
Deprecated
: Function get_magic_quotes_gpc() is deprecated in
/www/wwwroot/greatpeopleinside.com/conference2019/wp-includes/formatting.php
on line
2720
Deprecated
: Function get_magic_quotes_gpc() is deprecated in
/www/wwwroot/greatpeopleinside.com/conference2019/wp-includes/formatting.php
on line
2720
Deprecated
: Function get_magic_quotes_gpc() is deprecated in
/www/wwwroot/greatpeopleinside.com/conference2019/wp-includes/formatting.php
on line
2720
Deprecated
: Function get_magic_quotes_gpc() is deprecated in
/www/wwwroot/greatpeopleinside.com/conference2019/wp-includes/formatting.php
on line
2720
Deprecated
: Function get_magic_quotes_gpc() is deprecated in
/www/wwwroot/greatpeopleinside.com/conference2019/wp-includes/formatting.php
on line
2720
Deprecated
: Function get_magic_quotes_gpc() is deprecated in
/www/wwwroot/greatpeopleinside.com/conference2019/wp-includes/formatting.php
on line
2720
Deprecated
: Function get_magic_quotes_gpc() is deprecated in
/www/wwwroot/greatpeopleinside.com/conference2019/wp-includes/formatting.php
on line
2720
Deprecated
: Function get_magic_quotes_gpc() is deprecated in
/www/wwwroot/greatpeopleinside.com/conference2019/wp-includes/formatting.php
on line
2720
Deprecated
: Function get_magic_quotes_gpc() is deprecated in
/www/wwwroot/greatpeopleinside.com/conference2019/wp-includes/formatting.php
on line
2720
Deprecated
: Function get_magic_quotes_gpc() is deprecated in
/www/wwwroot/greatpeopleinside.com/conference2019/wp-includes/formatting.php
on line
2720
Deprecated
: Function get_magic_quotes_gpc() is deprecated in
/www/wwwroot/greatpeopleinside.com/conference2019/wp-includes/formatting.php
on line
2720
Deprecated
: Function get_magic_quotes_gpc() is deprecated in
/www/wwwroot/greatpeopleinside.com/conference2019/wp-includes/formatting.php
on line
2720
Deprecated
: Function get_magic_quotes_gpc() is deprecated in
/www/wwwroot/greatpeopleinside.com/conference2019/wp-includes/formatting.php
on line
2720
Deprecated
: Function get_magic_quotes_gpc() is deprecated in
/www/wwwroot/greatpeopleinside.com/conference2019/wp-includes/formatting.php
on line
2720
Deprecated
: Function get_magic_quotes_gpc() is deprecated in
/www/wwwroot/greatpeopleinside.com/conference2019/wp-includes/formatting.php
on line
2720
Deprecated
: Function get_magic_quotes_gpc() is deprecated in
/www/wwwroot/greatpeopleinside.com/conference2019/wp-includes/formatting.php
on line
2720
Deprecated
: Function get_magic_quotes_gpc() is deprecated in
/www/wwwroot/greatpeopleinside.com/conference2019/wp-includes/formatting.php
on line
2720
Deprecated
: Function get_magic_quotes_gpc() is deprecated in
/www/wwwroot/greatpeopleinside.com/conference2019/wp-includes/formatting.php
on line
2720
Deprecated
: Function get_magic_quotes_gpc() is deprecated in
/www/wwwroot/greatpeopleinside.com/conference2019/wp-includes/formatting.php
on line
2720
Deprecated
: Function get_magic_quotes_gpc() is deprecated in
/www/wwwroot/greatpeopleinside.com/conference2019/wp-includes/formatting.php
on line
2720
Deprecated
: Function get_magic_quotes_gpc() is deprecated in
/www/wwwroot/greatpeopleinside.com/conference2019/wp-includes/formatting.php
on line
2720
Deprecated
: Function get_magic_quotes_gpc() is deprecated in
/www/wwwroot/greatpeopleinside.com/conference2019/wp-includes/formatting.php
on line
2720
Deprecated
: Function get_magic_quotes_gpc() is deprecated in
/www/wwwroot/greatpeopleinside.com/conference2019/wp-includes/formatting.php
on line
2720
Deprecated
: Function get_magic_quotes_gpc() is deprecated in
/www/wwwroot/greatpeopleinside.com/conference2019/wp-includes/formatting.php
on line
2720
Deprecated
: Function get_magic_quotes_gpc() is deprecated in
/www/wwwroot/greatpeopleinside.com/conference2019/wp-includes/formatting.php
on line
2720
Deprecated
: Function get_magic_quotes_gpc() is deprecated in
/www/wwwroot/greatpeopleinside.com/conference2019/wp-includes/formatting.php
on line
2720
Deprecated
: Function get_magic_quotes_gpc() is deprecated in
/www/wwwroot/greatpeopleinside.com/conference2019/wp-includes/formatting.php
on line
2720
Deprecated
: Function get_magic_quotes_gpc() is deprecated in
/www/wwwroot/greatpeopleinside.com/conference2019/wp-includes/formatting.php
on line
2720
Deprecated
: Function get_magic_quotes_gpc() is deprecated in
/www/wwwroot/greatpeopleinside.com/conference2019/wp-includes/formatting.php
on line
2720
Deprecated
: Function get_magic_quotes_gpc() is deprecated in
/www/wwwroot/greatpeopleinside.com/conference2019/wp-includes/formatting.php
on line
2720
Deprecated
: Function get_magic_quotes_gpc() is deprecated in
/www/wwwroot/greatpeopleinside.com/conference2019/wp-includes/formatting.php
on line
2720
Deprecated
: Function get_magic_quotes_gpc() is deprecated in
/www/wwwroot/greatpeopleinside.com/conference2019/wp-includes/formatting.php
on line
2720
Deprecated
: Function get_magic_quotes_gpc() is deprecated in
/www/wwwroot/greatpeopleinside.com/conference2019/wp-includes/formatting.php
on line
2720
Deprecated
: Function get_magic_quotes_gpc() is deprecated in
/www/wwwroot/greatpeopleinside.com/conference2019/wp-includes/formatting.php
on line
2720
Deprecated
: Function get_magic_quotes_gpc() is deprecated in
/www/wwwroot/greatpeopleinside.com/conference2019/wp-includes/formatting.php
on line
2720
Deprecated
: Function get_magic_quotes_gpc() is deprecated in
/www/wwwroot/greatpeopleinside.com/conference2019/wp-includes/formatting.php
on line
2720
Deprecated
: Function get_magic_quotes_gpc() is deprecated in
/www/wwwroot/greatpeopleinside.com/conference2019/wp-includes/formatting.php
on line
2720
Deprecated
: Function get_magic_quotes_gpc() is deprecated in
/www/wwwroot/greatpeopleinside.com/conference2019/wp-includes/formatting.php
on line
2720
Deprecated
: Function get_magic_quotes_gpc() is deprecated in
/www/wwwroot/greatpeopleinside.com/conference2019/wp-includes/formatting.php
on line
2720
Deprecated
: Function get_magic_quotes_gpc() is deprecated in
/www/wwwroot/greatpeopleinside.com/conference2019/wp-includes/formatting.php
on line
2720
Deprecated
: Function get_magic_quotes_gpc() is deprecated in
/www/wwwroot/greatpeopleinside.com/conference2019/wp-includes/formatting.php
on line
2720
Deprecated
: Function get_magic_quotes_gpc() is deprecated in
/www/wwwroot/greatpeopleinside.com/conference2019/wp-includes/formatting.php
on line
2720
Deprecated
: Function get_magic_quotes_gpc() is deprecated in
/www/wwwroot/greatpeopleinside.com/conference2019/wp-includes/formatting.php
on line
2720
Speakeri de renume internațional care oferă noi puncte
de vedere relevante și exemple de bune practici
Informațiile necesare pentru îmbunătățirea
strategiilor de capital uman
Oportunități unice
de business networking
Interacționați cu speakerii și participanții într-un cadru informal. Evenimentele noastre sociale
sunt populare – și nu fără motiv!
Conectați-vă cu cei mai importanți oameni din industrie
Un concept unic ce reunește reprezentanți ai mediului de afaceri, antreprenori, manageri, specialiști și cercetători din domeniul resurselor umane din toate industriile, psihologi, reprezentanți ai Camerelor de Comerț, ai autorităților centrale și locale, ai marilor companii de consultanță, precum și experți cu renume internațional
Brașov
Un oraș gazdă dinamic și captivant
Antropologul Jared Diamond, laureat al premiului Pulitzer, afirmă că "…abilitatea unei societăți de a se extinde și de a face noi cuceriri este direct proporțională cu disponibilitatea acesteia de a îmbrățișa tehnologii inovatoare, disruptive".
Este un fapt binecunoscut că piaţa muncii se schimbă cu o viteză uluitoare, devenind din ce în ce mai imprevizibilă și este aproape imposibil de prognos-ticat cum va arăta în următorii zece sau douăzeci de ani.
A devenit o modă ca la finalul fiecărui an să ne întrecem în prezicerea tendințelor de orice fel precum și a trendurilor în HR pentru anii următori, însă predicțiile nu au fost niciodată ușor de realizat. Întâlnim din ce în ce mai rar o capacitate reală de a anticipa, după cum susține Philip E. Tetlock – Profesor de științe politice și psihologie în cadrul Universității din Pennsylvania și Wharton School of Business.
Vizionarii (inovatorii /"early adopters") sunt aceia care stabilesc standarde noi, schimbă status quo-ul și creează noi posibilități. Gândiți-vă doar ce viziune a fost necesară pentru a le permite oamenilor să zboare pentru prima oară la începutul secolului XX.
Cu toții adorăm invențiile fraților Wright, ale lui Nikola Tesla, Alan Turing, Henry Ford, Elon Musk și nu numai.  Munca lor ne-a inspirat și a reinventat practicile noastre tradiționale, făcând loc pentru ceva nemaivăzut. În domeniul Resurselor umane, ritmul inovării a înregistrat in ultimii ani un avânt fără precedent.
Peste 16.0 miliarde de dolari au fost investiți în tehnologia resurselor umane din anul 2009 până în prezent, dintre care 6, 5 miliarde de dolari au fost investiți doar în ultiimii doi ani. (Sursa: CB Insigts/cbinsights.com).
Se preconizează că, în acest ritm, sectorul global de management al resurselor umane (HRM) va ajunge la 30 miliarde de dolari până în anul 2025.
Cu alte cuvinte, crearea de soluții inovatoare în HR este în plină expansiune iar domeniul resurselor umane experimentează în prezent un adevărat influx de inovație. Un climat economic incert, progresele înregistrate în tehnologie și amplele perturbări ale pieței, pun organizațiile sub o presiune mai mare decât oricând.
Deși este dificil să previzionăm viitorul, este totuși esențial să identificăm și să înțelegem tendințele sociale, economice și tehnologice fundamentale sau "mega trendurile" care vor afecta organizațiile în următorii zece până la douăzeci de ani, pentru a anticipa și a ne pregăti pentru transformările ce vor urma.
Conferința Great People Inside: Visionary HR va genera, pe parcursul a două zile, discuții interesante și provocatoare privind modul în care digitalizarea, inteligența artificială, învățarea automată și tehnologiile actuale schimbă profund practicile de management al resurselor umane și modul în care putem crea un viitor centrat pe oameni.
Descoperiți noi abordări pentru gestionarea unei forțe de muncă "multigenerațională" și în plină schimbare, explorați impactul expansiunii economiei de tip sharing – "gig economy" pe măsură ce continuă să modifice semnificația angajării, discutați despre construirea unui brand de angajator puternic în peisajul actual al competiției pentru talent, înțelegeți importanța engagement-ului angajaților din perspectiva profitabilității oricărei organizații și rolul coaching-ul în remodelarea Culturii Organizaționale.
Reprezentanți ai companiilor aflate în Top 1.000 Romania's Most Productive Companies: www.romaniasmostproductive.ro
Top și Middle Management: CEO, CFO, Directori de Vânzări, Directori de Marketing, Manageri Resurse Umane
SpecialiștiRecrutare, Dezvoltare, Evaluare, Diagnoză, Formare, Training, Talent Manageri din toate industriile
Reprezentanți ai autorităților centrale și locale și ai Camerelor de Comerț
Psihologi specializați în domeniul psihologiei muncii
Antreprenori
Coaching-ul în remodelarea Culturii Organizaționale
Două abordări în HR: Vizionar și riscant vs de succes și sigur
Inteligența Artificială – Poate aceasta elimina subiectivismul în procesul de angajare?
Importanța engagement-ului angajaților din perspectiva profitabilității oricărei organizații
Rolul Leadership-ului în redefinirea responsabilității sociale a companiilor
Impactul expansiunii economiei de tip sharing – "gig economy" asupra domeniului HR
Reinventarea interviului: Identificarea și atragerea candidaților cu potențial înalt
Discrepanța competențelor: O problemă într-o continuă creștere sau o oportunitate nedescoperită?
Gamification și Management-ul Resurselor Umane: Un pas înapoi sau o așteptare ce a luat sfârsit?
Resursele Umane și Tehnologia/Automatizarea: cum să transformi această relație în una productivă
Învățarea în era dominată de tehnologie
Ultimul update 01.10.2019  /  *Agenda evenimentului poate suferi modificări.
Keynote Speakerii Ediției a XVI-a
Profesor în Psihologia Muncii și Organizațională
Wilmar B. Schaufeli este profesor în Psihologia Muncii și Organizațională în cadrul Universității Utrecht, Olanda, și profesor distins în zona ce cercetare în cadrul Universității KU Leven din Belgia.
Principalul său domeniu de cercetare este psihologia sănătății ocupaționale. Inițial, el a fost interesat de domeniul stresului de la locul de muncă și de burnout, ajungând să se concentreze în prezent asupra sănătății ocupaționale, în special asupra engagement-ului angajaților.
Este unul dintre autorii modelului de Resurse Loc de muncă – Cereri (Job-Demands Resources), cel mai popular model din psihologia sănătății organizaționale. Cu peste 500 de articole, capitole și cărți scrise, Dr. Schaufeli este un cercetător foarte citat, plasându-se în primii 1% din domeniul său de activitate. Dr. Schaufeli este membru al Academiei Europene de  Psihologie a Sănătății Organizaționale (European Academy of Occupational Health Psychology), un psiholog licențiat în sănătatea ocupațională și lucrează ocazional ca și consultant organizațional.
Pagina profilului său: www.wilmarschaufeli.nl.
Chief Executive Officer –
Association of Test Publishers (ATP)
William G. Harris deține funcția de CEO al Association of Test Publishers (ATP), asociația comercială care este lider global în domeniul creatorilor, dezvoltatorilor și utilizatorilor programelor de evaluare folosite în scopul educației, certificării sau licențierii. Dr. Harris a obținut doctoratul în cadrul Universității Massachusetts, un MBA în cadrul Universității Duke și un Doctorat Onorific de la Colegiul Excelsior, unde este membru emerit în Consiliul de Administrație.
Pe lângă faptul că este un psiholog licențiat, Dr. Harris este și un promotor renumit la nivel internațional și expert în comunitatea de evaluărilor, specialist în zona de protecție a datelor, confidențialitate, copyright și standarde de evaluare bazate pe tehnologie. Responsabilitățile dr. Harris includ dezvoltarea și aplicarea planului strategic al ATP la nivel global. Sub conducerea sa, ATP s-a dezvoltat în următoarele regiuni: Asia, Europa, India și America de Nord.
Dr. Harris a fost catalizatorul publicării cu succes a mai multor inițiative ATP, incluzând Operational Best Practices for Statewide Large-Scale Assessment Programs (OBP), Regulamentul General privind Protecția Datelor (GDPR) aplicat pentru comuntatea globală a evaluărilor, Jurnalul pentru Tehnologia Aplicată de Testare (Journal of Applied Testing Technology), precum și o serie de documente ce privesc securitatea testelor și protecția datelor.
Dr. Harris a fost un profesor-doctor al măsurării și evaluare a programului în cadrul Institutului de Tehnologie Illinois (IIT; Chicago). A jucat un rol crucial în construirea unui plan de învățământ pentru noul program doctoral de psihologie clinică al IIT și în acreditarea programului la nivel național și regional.
Bine ai revenit, Dan Hill!
Founder & President – Sensory Logic
Dan Hill, renumitul expert internațional în citirea microexpresiilor faciale prin intermediul instrumentului cunoscut datorită serialului "Lie to me" și bestseller-ului "Blink", vine pentru a doua oară în România! Dan va fi Keynote Speaker în cadrul Conferinței Great People Inside: Visionary HR, care va avea loc la Hotel Kronwell Brașov, între 9 și 10 octombrie 2019. Cinci dintre cele șapte coduri de citire a emoțiilor bazate pe expresia facială au fost evidențiate și în filmul Inside Out de la Pixar. Munca lui Dan se extinde de la aplicații pentru studiul pieței  până în domeniul legislativ, al finanțelelor comportamentale și al sporturilor profesioniste, dar și pentru analiza executivilor, politicienilor și altor persoane publice, ca și biograf al expresiilor faciale pentru persoane celebre.
Dan a fost invitat la emisiuni difuzate pe posturi celebre, precum: CNN, PBS, Fox, MSNBC, CNBC, Bloomberg TV, ESPN, Tennis Channel, "The Today Show" al NBC și în "Good Morning America"  de pe postul ABC."  Aparițiile radio  includ BBC și "Marketplace" de la NPR.
Pe lângă  apariția de pe coperta renumitului New York Times, Dan Hill a apărut de multe ori și în publicații celebre , printre care se numără: The Wall Street Journal, USA Today, Fast Company, Politico, Advertising  Age , Kiplinger's, Allure, Forbes China și Reuters.  Dan este un speaker de succes care și-a prezentat ideile  în fața audiențelor din peste 20 de țări.
În plus față de patentarea a peste 10 invenții legate de expresiile faciale,  instrumentul pe care Dan l-a adus în studiul pieței a pus bazele în acest domeniu. Dan este autorul a 5 cărți, printre care și renumita Emotionomics: Cum să câştigi inimile şi minţile oamenilor, despre care Philip Kotler a spus că "este o revelație".
În ultimul timp, Dan s-a preocupat în mod special cu scrierea cărților. Una dintre acestea a apărut anul trecut (Famous Faces Decoded: A Guidebook for Reading Others) și alte două urmează să fie publicate Two Cheers for Democracy (un studiu despre cei 44 de președinți americani și alți 78 delideri politici străini importanți de secolul trecut) și First Blush (un studiu privind reacțiile rapide și instinctive ale oamenilor atunci când sunt expuși formelor de artă cunoscute, utilizând sisteme de urmările a ochilor și de decodare facială).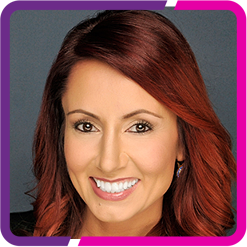 1
Cicek este președintele Consilului de Administrație al Association of Test Publishers (ATP). Mai mult decât atât, a servit două mandate ca și Președinte al Regiunii Europene a ATP, iar în 2015 a fost Președinte al Diviziei I/O. Cicek Svennson este Vicepreședinte Senior al Dezvoltării de Afaceri și Marketing în cadrul Comms Multilingual și locuiește în San Diego, California. Este psiholog organizațional și este responsabilă de dezvoltarea afacerilor la nivel internațional. De asemenea, ea este membru în Comitetul Consultativ pentru Orientul Mijlociu și Africa și un membru activ al Societății pentru Psihologia Muncii și Organizațională, al Comisiei Testării
Internaționale și al Asociației pentru Talent Development. Experiența ei acoperă consultanța de resurse umane, managementul schimbării, planificarea succesiunii, dezvoltarea de brand și vânzările strategice. Înainte de a se alătura companiei Comms Multilingual, a lucrat pentru companie Test Publisher din Suedia, unde a dobândit multă experiență în implementarea testelor internaționale în piața nordică, precum și în adatarea textelor suedeze pentru piața internațională. Are o redutabilă experiență internațională și este fluentă în mai multe limbi. A lucrat în Suedia, Turcia și în Statele Unite.
Senior Vice President – Comms Multilingual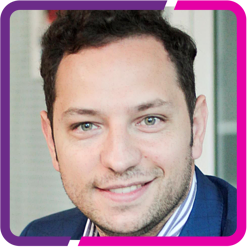 1
Stelian Bogza are o experientă de peste nouă ani în domeniul bancar şi financiar în segmentul relatiilor business-to-business, marketing şi vănzări. În august 2009 îşi începe colaborarea cu Citibank, din funcţia de Business Development & Cards Partnerships Manager, concentrându-se exclusiv pe divizia B2B, strategii de marketing şi vânzâri ale cardurilor bancare. În cei patru ani în care a avut această poziţie, a implementat şi gestionat cea mai mare reţea de reduceri din sistemul bancar local: 450 de retaileri cu peste 2.000 de puncte de vânzare. Tot în acea perioadă a stabilit un parteneriat cu Ministerul Culturii în cadrul căruia detinătorii de carduri Citibank aveau acces gratuit în 17 dintre cele mai vizitate muzee din România (ex: Castelul Peleş, Muzeul Satului, Brukenthal etc.), beneficiu care s-a dovedit a fi nu doar unic, ci şi unul dintre cele mai utilizate în sistemul bancar local. Unul dintre beneficiile Citibank implementat de el şi în România a presupus adaptarea sistemului internaţional de privilegii cu peste 100 de hoteluri, restaurante şi spa-uri din România. Din 2014, aduce împreună cu Adrian Sârbu un sistem unic în Romănia de beneficii opţionale pentru angajaţi. Experienţa în domeniu financiar-bancar împreună cu experienţa lui Adrian în dezvoltarea afacerilor i-au ajutat să identifice oportunitatea unei noi tendinţe de externalizare a serviciilor pentru motivarea angajaţilor care îşi doresc pachete de beneficii mai flexibile, adaptate nevoilor lor.
Commercial Director & Co-Founder – Benefit
1
Are o experiență de 16 ani în cadrul Mondelez, ocupând mai multe funcții de-a lungul timpului, inclusiv cea de director general al Mondelez Romania, în perioada 2005-2008. Ulterior acesta a mai ocupat pozițiile de director de strategie și dezvoltare în cadrul Mondelez International și director al Mondelez pentru Cehia și Slovacia, respectiv director pentru zona Europei Centrale. În perioada 2015-2016, Mueller a fost președinte global professional business în cadrul Jacobs, iar din iunie 2016 și-a înființat propriul business în domeniul consultanței.
Managing Director – Heidi Chocolat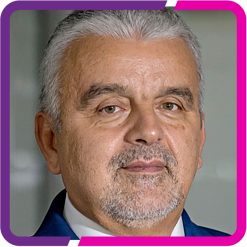 1
Bogdan Merfea – Președinte al Consiliului de Administrație Patria Credit IFN/ Membru al Consiliului de Administrație Patria Bank
Bogdan Merfea a fost CEO al Patria Bank (fuzionată recent cu Banca Comercială Carpatica), are o experiență în management de peste 10 ani, deținând, în trecut și funcțiile de CEO al Patria Credit IFN și Raiffeisen Bank Kossovo. În paralel cu dezvoltarea unei cariere universitare pentru mai mult de 18 ani, Merfea a coordonat încă din 1995 multiple proiecte și programe pentru a susține și promova întreprinderile mici și mijlocii din România.
Promotor al Incluziunii Financiare, domnul Merfea este membru activ al Rețelei Europene de Microfinanțe și este în continuare Președinte al Consiliului de Administrația Patria Credit. Bogdan Merfea are o experiență academică vastă, având un doctorat în Inginerie Mecanică și un Master în Management-ul de Business, participând, în prezent, și la cursurile școlii prestigioase INSEAD.
Președinte al Consiliului de Administrație Patria Credit IFN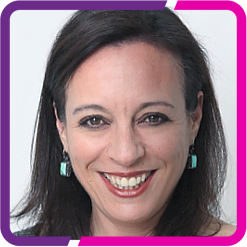 1
Olga este o antreprenoare ce a avut mult success în cariera ei, devenind o personană publică în Grecia cu o multitudine de testimoniale relevante din partea oamenilor pentru care a fost mentor, de la angajați seniori și până la tineri antreprenori, dar mai ales oameni ce făceau parte din grupurile de risc (refugiați, șomeri și persoane cu venituri scăzute). În ultimii 20 de ani, ea a proiectat programe premiate în domeniile dezvoltării profesionale, a soft skills-urilor, a abilităților de promovare, atingerea obiectivelor și responsabilizarea umană, care au dezvoltat și avansat angajarea, management-ul și învățarea pentru mai mult de 4000 de oameni. Încă din 2015, ea conduce programul Employability Skills Accelerator 'Mellon' (Education Business Award 2016, Bravo! Sustainability Awards 2018 & Best City Awards 2018). Ea a colaborat cu instituții distinse și personaje importante din lumea financiară, precum organizațiile de caritate Prince's Trust International și International Rescue Committee, Comisia Europeană, Parlamentul European din Grecia, Fundația Stavros Niarchos, Vodafone Grecia și România, oferind consultații revoluționare cu rezultate măsurabile și un impact social semnificativ. Este editor național în  cadrul European Commission Standard Eurobarometer (din 2011) a fost selectată ambasator național pentru ziua antreprenoriatului feminin (2014, Grecia), o inițiativă a WED, NY, în cooperare cu Ministerul Intern al Statelor Unite. Recunoscută și certificată ca și Mentor și Coach Executiv, precum și 'Strengths Practitioner', (MIT Greece Startup Competition, Mellon Angel, Business Mentors, Enterprising Socially, etc.)., coordonând și activitatea Lean In Circles ale Vodafone (Grecia și + România), pentru care Vodafone Grecia a premit două Premii de aur (HR Awards 2017 și 2018).
Founder & Managing Partner – Militos SA
Founding Member and Chief Visionary Officer – Knowl Social Enterprise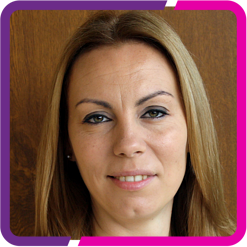 1
Ileana este în Mega Image din 2001 cumulând 18 ani de retail. Este dublu licențiată, în Drept și Comunicare și Relații Publice, master în Relații Publice în Marketing în cadrul ASE. Are 9 ani de experiență în domeniul juridic (din 2001 până în 2010), din care 6 ani (între 2004 și 2010) a condus Departamentul Juridic (din care 2 ani în paralel cu Departamentul HR). De 10 ani conduce departamentul de Resurse Umane (august 2008-prezent), ca și Director de Resurse Umane, membru în Comitetul Executiv, iar din 2015 este Vice Presedinte Resurse Umane.
Vice-Președinte HR – Mega Image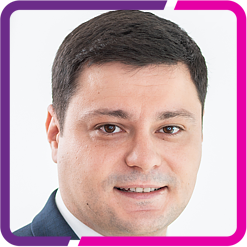 1
Cătălin oferă consultanță clienților români și intemaţionali ce provin dintr-o multitudine de industrii, precum industria auto, chimică, asigurări, servicii financiare, industria medicamentele generice, imobiliare, IT, alimentară, media, farmaceutică, abordănd o gamă variată de subiecte ce ţin atăt de raporturile juridice de dreptul muncii, căt şi de asigurările sociale. Cătălin acordă servicii de asistenţă juridică şi reprezentare clienţilor Noerr atăt în faţa instanţelor de judecată competente, căt şi în faţa autorităţilor publice relevante, fiind şi avocat litigant. De asemenea, Cătălin oferă servicii de consultanţă ce ţin de diferite ramuri ale dreptului privat. In ceea ce priveşte contribuţia bibliografică, Cătălin este coautorul articolui "The procedural valences of the law principle accesorium sequitur principale" publicat în decembrie, 2016, în Revista Romănă de Jurisprudenţă, nr 6/2016, coautor al articolului 'The order of enforcement, a recurrent theme", publicat pe 16 februarie, 2016 în www.juridice.ro, coautor al explicaţillor legislative şi a colecliei de comentarii "New Civil Procedure Code. Notes. Correlations. Explanations", C.H. Beck Publishing, Bucharest, 2012″ (articolele de la 720 pănă la 817), fiind, de asemenea, implicat în mod activ în diverse teme de notorietate acordănd şi susţinănd interviuri pe teme variate, cum ar fi "Scandalul contribuţiel impuse medicilor", publicat în Jumalul Naţional – jurnalul.antena3.ro în 29 Octombrie 2015.
Coordinator Employment & Pensions Practice, Senior Associate – Noerr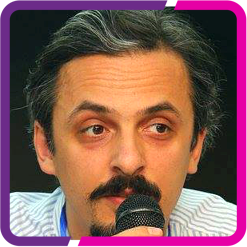 1
Training Manager la Autonom, având studii de Consiliere și Consultanță Filosofică, Psihologie și Teologie. Mihail a căutat mereu contexte unde să cunoască și să se conecteze cu cât mai mulți oameni. Are convingerea că, într-adevăr, cărțile oferă acces la multe informații, însă interacțiunea umană este pentru el magie. Totodată, el crede că poți învăța ceva de la orice om dacă asta îți dorești.
Training Manager – Autonom
1
Desiree Diaconescu are o experienţă de peste 20 ani în Managementul Resurselor Umane. Ea lucrează în cadrul Tuborg România de 22 ani, în anul 2009 preluând funcţia de Vicepreşedinte Resurse Umane. Desiree este absolvent al Facultăţii de Drept, însă a continuat studiile în domeniul resurselor umane, studii concretizate cu un Master of Arts in Human Resources Management la Universitatea Westminster din Londra.
Vice President Human Resources – Tuborg România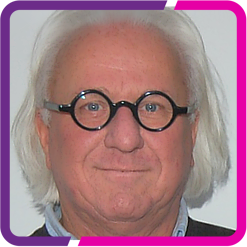 1
Joep este CEO-ul Aon în Caraibele Olandeze. În trecut, Joep a condus multinaționale și echipe virtuale, precum și echipa de Sănătate și Beneficii a AON pe zona Europei Centrale și de Est. Combinând rolul de CCO și cel de Director al Secțiunii de Afaceri Sănătate și Beneficii din Europa Centrală și de Est, Joep a pus bazele pentru construirea Best Employer Survey și a afacerii Engagement-ului pentru Aon. Mai mult decât atât, invovația, dezvoltarea noilor produse în domeniul Beneficiilor Angajaților și al Consultanței de ResurseUmane, Comunicarea Beneficiilor, Managementul Talentelor, engagement-ul și multe altele au fost în topul listei sale de priorități, toate acestea pentru a păstra și a trage cei mai buni oameni pentru joburi. Printre aceste priorități fac parte și dezvoltarea și implementarea strategiilor globale de beneficii ale angajaților pentru companii multinaționale din Europa Centrală și de Est. Cu vasta sa experiență și o multitudine de conexiuni cu lideri HR și de afaceri, Joep are propria sa viziune despre viitorul HR-ului.
CEO – Aon Dutch Caribbean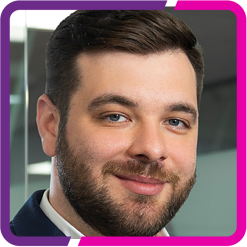 1
Experienta de peste 10 ani in Product Management si Business Development in domeniul bancar si beneficii pentru angajati. Am inceput cariera de Product Manager in Citibank in 2006 unde am lansat mai multe solutii de creditare, primul card din Romania cu componenta de cash back si un credit card de credit co-brand cu Vodafone. Dupa aceasta experienta am continuat sa dezvolt produse si solutii in cadrul UniCredit Bank unde am coodonat echipa de carduri de credit. Apetitul pentru digitalizare, inovatie si instrumente de plata m-a determinat sa schimb domeniul de activitate si ma alatur unei nise in care lucrurile se intampla mult mai accelerat. Asa ca in ultimii 3 ani am facut parte din conducerea Edenred Romania, ca Director de Dezvoltare, timp in care am initiat si implementat impreuna cu echipa locala proiecte strategice si de impact regional precum: aplicatia mobila MyEdenred, e-contracting, deschiderea unei noi linii de business in Republica Molova, Edenred Card Cadou, Apple Pay, achizitia platformei Benefit Online si multe altele. In Mai 2019 am acceptat o noua provocare si m-am alaturat echipei SanoPass in calitate de co-fondator. SanoPass este o alternativa inovativa, simpla si rapida la abonamentele medicale clasice care iti ofera libertate de utilizare in cea mai variata retea de clinici independente si cabinete medicale private.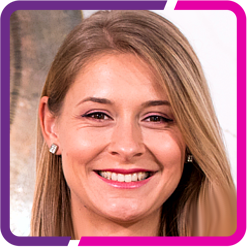 1
Armina Dobrica lucreaza de aproape 5 ani in corporate wellness – design de strategie, training si consultanta. Experienta a invatat-o ca fiecare organizatie are o cultura unica, un "vibe" aparte care se imprima in munca si viata angajatilor. Spune ca a devenit imposibil sa vorbim despre engagement, compensatii & beneficii, employee wellbeing sau learning & developement, fara sa cautam legaturile dintre ele, fara sa incercam, cel putin, sa le intregam intr-o structura unitara care da tonul in relatia dintre companie si oamenii ei.
Armina isi propune, asadar, sa vada imaginea de ansamblu, sa gaseasca provocarile fundamentale din organizatie si sa creeze solutii pe termen lung care au impact real. Incepand cu anul 2018, face parte din echipa Aon Romania, in pozitia de corporate wellness consultant.
Motto-ul ei este: "If you look for shortcuts, you fall short of results".
Corporate Wellness Consultant – Aon România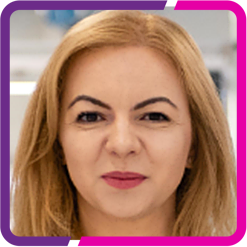 1
Violeta Balint este absolventă a facultății de Litere din Sibiu, are mai multe specializări în management, resurse umane, finanțe, comunicare și operațiuni, fiind, de asemenea, certificată în SPHR încă din anul 2013. Are o experiență de peste 14 ani în Resurse Umane, dintre care timp de 12 ani a deținut poziții de management. Activitatea profesională a Violetei s-a desfășurat în companii multinaționale franceze și germane, precum: SOMAREST (parte a grupului LVMH), DRAEXLMAIER și HUTCHINSON. Violeta a lucrat exclusiv în companii de producție: electronică, automotive și bunuri de lux, considerând, totodată, că personalitatea ei se îmbină perfect cu domeniul manufacturii. În anul 2018, ea s-a alăturat echipei Sennheiser în calitate de HR & Plant Deputy Director, rolul ei fiind de a construi o echipă și de a implementa procesele și cultura organizațională Sennheiser în cadrul fabricii din Brașov. Începând cu luna aprilie a acestui an, a acceptat să facă o schimbare în carieră și a preluat conducerea operațiunilor din România, devenind Director General. Fondată în 1945, compania Sennheiser este unul dintre cei mai importanți producători mondiali de căști, difuzoare, microfoane și sisteme de transmisie wireless ce a decis în anul 2017 să înființeze o fabrică de producție la Brașov-Ghimbav. Este un Director General atipic, venind dintr-o zonă "non-tehnică" iar expertiza ei include conectarea oamenilor din diverse arii de activitate.
General Manager – Sennheiser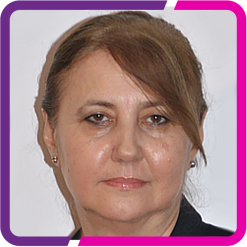 1
Irina Dogaru este partener fondator și Director de Dezvoltare EXELO Training & Development, este consultant și trainer sub licențele Global Knowledge, Great People Inside, SimTeam și Human Synergistics și are peste 20 de ani de experienţă în proiecte de dezvoltare organizațională în domeniile: strategie, managementul talentelor, leadership transformațional, managementul relaţiilor cu clienţii și coaching managerial. Irina inițiază și dezvoltă parteneriate strategice cu univesități din România, construind sau participând la mai multe tipuri de evenimente care au drept scop pregătirea studenților pentru viitoarea carieră: concursuri interuniversitare cu simulări de business, dezvoltarea de competențe de leadership și antreprenoriale, realizarea de planuri de afaceri pentru câștigarea de finanțări pentru start-up-uri.
Development Director – EXELO Training & Development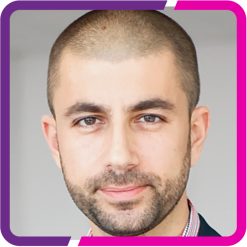 1
Adrian Măniuțiu e un antreprenor mereu în căutare de noi oportunități și idei. S-a născut la Cluj-Napoca, în 1979, și a studiat business și marketing în Germania. A lucrat în domeniul investițiilor și în dezvoltare imobiliară și medicală. În 2013 a fondat PhotoMedia Management – o agenție boutique, în expansiune, concentrată pe marketing-ul creativ, producții media, comunicare, management reputațional și de criză, fiind totodată implicat în finanțarea mai multor startup-uri. În 2019 a lansat brandul, platforma și studioul EM360 (www.em360.ro) – un demers media integrat cu focus pe generarea de continut video propriu. Adrian are o interesantă experiență și în televiziunea mainstream, atât din poziția de realizator TV și prezentator, cât și din cea de co-producător și dezvoltator de formate.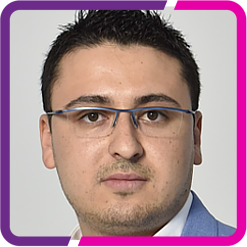 1
Aurelian Chitez este Sales Manager în cadrul companiei Romanian Software, având o experiență de peste 8 ani în promovarea și vânzarea de soluții software dedicate optimizării proceselor de HR. Aurelian a absolvit un program de Master în Comunicare și Relații Internaționale. Este alături de Romanian Software de peste 9 ani, timp în care a contribuit la construirea de parteneriate durabile cu clienții companiei, oferindu-le soluții flexibile, adaptate nevoilor pieței romanești. Romanian Software este unul dintre liderii pieței romanești de soluții software dedicate resurselor umane. Compania are la ora actuală prin intermediul platformei sale colorful.hr aproximativ 600 clienți și circa 140 angajați și colaboratori, administrând datele a peste 120.000 de salariați din Romania. Printre clienții săi se numără firme și instituții de renume precum: Amrest (Starbucks), Bergenbier, Altex, Universitatea București, Nuclearelectrica sau Alro Slatina.
Sales Manager – Romanian Software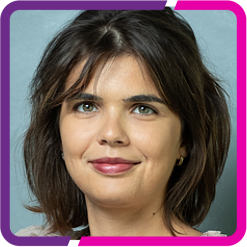 1
Deținând o diplomă de doctor în economie, specializarea Informatică economică (cu accent pe Inteligență artificială), precum și numeroase premii internaționale, Andreea a fost desemnată ca fiind unul dintre cei mai de succes tineri manageri din România. În prezent, ea merge mai departe pe linia succesului, în calitate de COO al companiei Druid – un startup românesc din domeniul inteligenței artificiale care dezvoltă o platformă ce permite conceperea de către întreprinderi a unor aplicații chatbot, fără a necesita cunoștințe de programare, permițându-le organizațiilor să planifice, să dezvolte și să implementeze aplicații chatbot facilitând interacțiunile naturale și complexe dintre angajați, clienți, parteneri și sisteme software profesionale, prin conversații textuale și vocale omnichannel.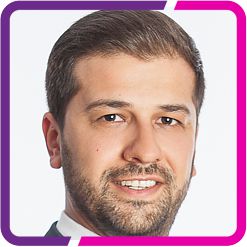 1
Mihai Găvan, Head of Charisma HCM Division la TotalSoft, are un background bogat în resursele umane, dobândit în cei 13 ani de activitate in domeniul vânzărilor de soluții software pentru HR. Licențiat al Universității București, Mihai are un master în marketing și management strategic la Academia de Studii Economice (ASE) din București și este pasionat de tehnologie, strategie și bune practici în HR. Plecând de la nevoia de planificare a carierei a oricărui angajat, Mihai crede în importanța adopției principiilor de management al talentelor și includerea lor în cultura organizaționala a oricărei companii. Mihai s-a alăturat echipei TotalSoft în 2016, preluând responsabilitatea conducerii diviziei celui mai popular software dedicat managementului capitalului uman – Charisma HCM.
HCM Global Sales Director – TotalSoft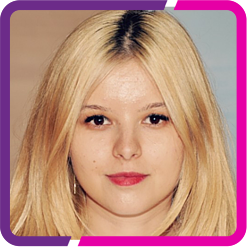 1
Mihaela s-a alăturat companiei Romanian Software la începutul anului 2018 și în prezent coordonează departamentul de consultanță în materie de taxare individuală și dreptul muncii. Ea asigură interpretarea legislației muncii și a legislației fiscale în vederea corelării din punct de vedere juridic și fiscal între procesele de administrare de personal și salarizare. De asemenea, Mihaela Colesnic organizează în mod constant cursuri pe teme specifice din domeniul legislației muncii și salarizării. Ea și-a început cariera într-o companie românească de consultanță și apoi a lucrat timp de 4 ani și jumătate în cadrul unui Big4, chiar înainte de a se alătura echipei Romanian Software. Este licențiată în Economie și deține un Master în Dreptul Muncii.
Labour Law Expert – Romanian Software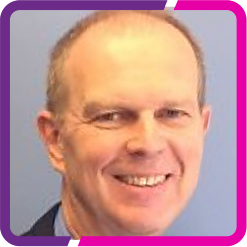 1
Klemens Wersonig este fondatorul și directorul general austriac al TARGET Executive Search. De 25 de ani, el se concentrează pe recrutare și headhunting de management superior în CEE. A intervievat personal peste 20.000 de manageri din Europa Centrală și a recrutat cu succes peste 500. Fiind din Austria, a fost unul dintre primii "pionieri ai estului". A traversat "Cortina de fier" în 1988 și a început să lucreze în Ungaria, gestionând un start-up din domeniul comerțului și al dezvoltării imobiliare. Pe parcursul a 5 ani, a gestionat o echipă formată din 40 de oameni și a învățat și limba maghiară. Încă de atunci, a lăsat un punct de reper în centrul Budapestei: Convertirea porțiunii de sud a Vaci utca în zonă pietonală a fost ideea sa pentru realizarea căreia a convins autoritățile orașului și a obținut finanțarea. În prezent aceasta a devenit o atracție turistică majoră. Înainte de a veni în Ungaria, a primit o bursă Rotary de 1 an în Canada și apoi a terminat un doctorat în administrarea afacerilor la WU-Wirtschaftsuniversität Viena. A fost președinte AIESEC la Viena și a avut stagii în SUA, Canada și Franța. În afară de limba sa maternă, germana, vorbește fluent engleza, franceza, maghiara și studiază slovaca. În 1994 a fondat Grupul de Executive Search TARGET. Pe lângă rolul său de director general pentru întregul grup, îi face plăcere să se ocupe de propriii clienți-cheie și să găsească manageri potriviți pentru aceștia. De asemenea, a ocupat mai mulți ani ca membru al consiliului de administrație și vicepreședinte al rețelei globale de executive search – INAC, în cadrul căreia TARGET este partener pentru CEE.
Founder and CEO – TARGET Executive Search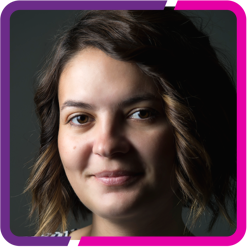 1
Laura este Manager General la Mindit Consulting, prima companie românească de background screening, al cărei scop este să schimbe România în bine, crescând gradul de onestitate în mediul de business. Procesul de background screening presupune verificarea informațiilor din CV, cu acordul prealabil al candidatului în 6 mari zone: educație, experiențe, partea legală, media & social media, acționariat și analiza CV-ului. În același timp, Laura este board member în Professional Background Screening Association (anterior NAPBS) și un promoter pentru acest proces la nivel european.
Manager General – Mindit Consulting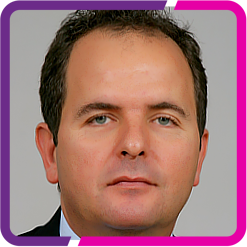 1
Dan Brumboiu a studiat fizica si administrarea afacerilor si are o experienta de 20 ani ca manager in firme germane. Din anul 2013 este administrator si director general al firmei Polipol Mobila din Foieni (Satu Mare), firma membra a Grupului Polipol, cel mai mare producator german de mobila tapitata. "Succesul echipei Polipol Mobila e bazat pe incredere si sprijin reciproc, pe respect si responsabilitate!". Este mandru ca face parte din echipa Polipol Mobila alaturi de care a reusit sa dezvolte continuu firma prin programe de dezvoltare a angajatilor, prin investitii care s-au realizat in ultimii ani dar si prin eficientizarea proceselor din companie. In anul 2016 au fost facute investitii de peste 8 milioane de Euro, investitii ce au continuat si in anii urmatori. Este implicat in diferite proiecte la nivel regional: – Dezvoltarea invatamantului profesional dual dupa modelul german; Presedinte al CLDPS Satu Mare si vicepresedinte al Consortiului Regional pentru Regiunea de Nord-Vest precum si membru in Grupul de Lucru Romano-German pentru Invatamant Profesional. – Promovarea potentialului economic si sustinerea mediului de afaceri ca vicepresedinte al Asociatiei Economice Germano-Romane pentru Regiunea de Nord-Vest.
 Director General – Polipol România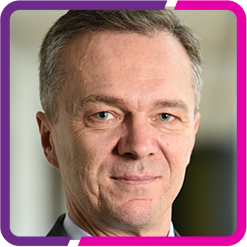 1
Radu Craciun are o experienta de peste 20 de ani in sectorul pietelor financiare, ocupand pozitii cheie de management in companii de top. In prezent este Director General si Presedinte al Directoratului BCR Pensii, precum si Presedinte al Asociatiei pentru Pensiile Administrate Privat din Romania (APAPR). Anterior, timp de doi ani a ocupat functia de Economist-Sef si Director de analiza al Bancii Comerciale Romane (BCR). Radu Craciun este Membru fondator si Vicepresedinte al Asociatiei Administratorilor Independenti (AAI). In perioada 2014-2016 a fost Presedinte al Asociatiei Analistilor Bancari din Romania, asociatie in care este Membru Fondator. Incepand din 2017 este profesor asociat al ASEBUSS. Scrie comentarii saptamanale pe teme economice si geopolitice pe blogul sau www.raducraciun.ro.
Director General & Președinte al Directoratului BCR Pensii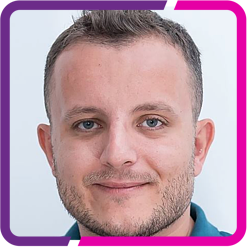 1
3minutesjob este cea mai nouă platformă de recrutare ce va fi lansată "live" în cadrul evenimentului Great People Inside: Visionary HR. Prezentarea va fi una atipică și însoțită de un moment artistic. Platforma 3minutesjob a fost creată pentru a sprijini procesul de recrutare atât din perspectiva angajatorului cât și din perspectiva candidatului. Procesul de selecție este ușurat prin intermediul suportului video precum Video CV si Video Job Description. Platforma își propune să sprijine aplicanții de nișă cum ar fi: oamenii cu dizabilități, mame, oamenii cu cazier și oamenii ce sunt nevoiți să se relocheze. Joburile și candidații sunt localizați geografic, iar firmele pot crea anunturi de recrutare, direct sau prin diverși terți, care la rândul lor vor fi geolocalizate. Secretul 3minutesjob.com constă în centralizarea procesului de recrutare în jurul individului și al nevoilor sale.
Fondator – 3minutesjob.com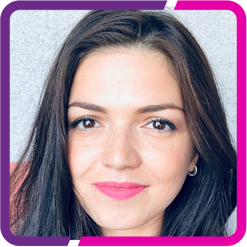 1
Simona are aproape 10 ani de experiență în domeniile HR și Tehnologie. A absolvit Facultatea de Cibernetică, Statistică și Informatică Economică și deține un Masterat în Baze de date. Prima ei interacțiune cu lumea resurselor umane a fost în 2010, când a preluat un rol de consultant tehnic pentru o soluție HR de nișă, în cadrul IBM. Ea s-a alăturat echipei Oracle în 2014, la început cu rolul de consultant tehnic Pre-sales pentru soluții HCM, în prezent conducând o echipă pasionată de experți în aplicații cloud, deservind întreaga regiune EMEA și JAPAC. Obiectivul ei este să le ofere clienților cele mai bune soluții de resurse umane prin furnizarea de experiențe excepționale și inovatoare, cu ajutorul tehnologiilor emergente (Blockchain, IoT, Chatbots, Realitate Augmentată, AI și altele).
Cloud Applications Technology Manager – Oracle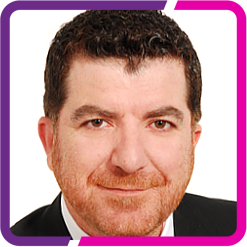 1
Filios Papastylianou este responsabil pentru aplicațiile HCM din Europa Centrală și de Est, Rusia și Israel, supervizând aplicațiile HCM, inclusiv soluțiile Cloud și On Premise. Filios s-a alăturat echipei Oracle în 2006. Înainte de rolul său actual, a oferit support în Europa de Sud-Est pentru aplicațiile Oracle E-Business Suite. Filios deține un Masterat în Managementul sistemelor de informații obținut la California State University, SUA.
HCM Business Development & Strategy Leader, CEE, Russia and Israel – Oracle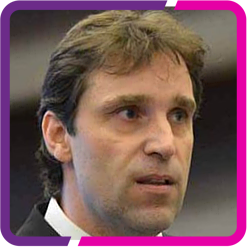 1
Harry Meintassis este partener senior în cadrul Korn Ferry și director general al Korn Ferry România. În trecut, a fost directorul general al Hay Group pentru Europa de Sud-Est. Înainte de a se alătura Hay Group (2001), Harry a colaborat cu Ernst & Young în calitate de Senior Manager pentru Transformarea afacerii și Managementul performanței, fiind responsabil de principalele inițiative organizaționale și de reproiectare a afacerilor (1993-2000). Experiența lui Harry include Implementarea strategiei, Dezvoltarea și formarea organizației și a liderilor și Managementul schimbărilor. Este membru al cabinetului de strategie organizațională și dezvoltarea leadershipului din cadrul Korn Ferry și al Comunității globale de practică în coaching a Korn Ferry. Harry a condus proiecte integrate de organizare și resurse umane în mai multe sectoare, printre care se numără cele aferente energiei, telecomunicațiilor, consumatorilor, finanțelor și științele vieții.
Country Managing Partner – Korn Ferry Hay Group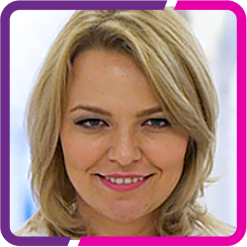 1
Daiana Stoicescu este Coach Profesionist (Professional Certified Coach), certificat de către Federaţia Internaţională de Coaching (ICF), Director de comunicare şi Preşedinte aI ICF, Reprezentanța din România. Este expert în a-i ajuta pe directori şi manageri să îşi atingă cele mai ambiţioase scopuri în activitate, oferind celorlalți servicii de coaching pentru îmbunătăţirea performantelor. Din 2011 oferă şi servicii de coaching individuale și de grup menite să aducă o cultură de coaching în organizaţia dvs. În plus fată de cei peste 10 ani de experienţă ca şi comunicator, cu clienți de coaching din industrii diferite şi peste 3500 ore de coaching, Daiana a beneficiat de o pregătire riguroasă de optsprezece luni la Center for Executive Coaching în cadrul programelor Certified Executive Coach si Master Certified Coach Trainer, programe aprobate de Federaţia Internatională de Coaching (ICF). Daiana este reprezentantul Center for Executive Coaching in Romania si poate forma coachi profesioniști și îi poate ajuta să se certifice la ICF până la nivelul intermediar, PCC. Cu succes a fost coach pentru directori şi lideri de companii şi organizații non-profit diverse, inclusiv firme din domeniul tehnologic, companii farmaceutice, companii de servicii financiare, companii în dezvoltare, firme de servicii profesionale, fundații, companii comerciale.
CPO Great People Inside / CEO Great People Inside Romania
Doru Dima este Doctor în Psihologia Muncii și Organizațională, antreprenor și manager de succes, cu o experiență de 20 de ani în domeniul Resurselor Umane. Fondator și CEO al Dima Consulting Group și Profiles International Romania ambele poziționate printre principalii furnizori de servicii de consultanță în resurse umane și management, a implementat și gestionat o serie de proiecte naționale și internaționale importante.
Începând cu luna mai 2015 a devenit co-fondator al Great People Inside, o companie internațională ce dezvoltă evaluări online de resurse umane, personalizate și adaptate la specificul fiecărei organizații și job în parte, fiind un concept unic în industria HR. Evaluările sunt oferite prin intermediul unei noi tehnologii, o platforma de Talent Management Assessment Solutions, de tip cloud, configurabilă și 100% customizabilă. Platforma Great People Inside -GR8PI a primit din partea EuroCloud România premiul pentru "Cel mai bun start-up de cloud" din anul 2016. În ultimul an, Great People Inside a evoluat de la un start-up local bazat pe Cloud, la o companie internațională cu sediul în Singapore și reprezentanțe în Europa, Emiratele Arabe Unite, Asia și America de Nord.
Doru Dima este autor al unor lucrări de referință în domeniul afacerilor, printre care: 40 de Strategii pentru succesul în afaceri, Editura CODECS, 2008, Dicționar General de Afaceri, Editura Ecran Magazin, Managementul Resurselor Umane, Editura Psihomedia Sibiu, precum și a numeroase articole apărute în reviste locale și naționale, a publicat și a participat la elaborarea a numeroase cursuri, cărți, lucrări științifice și de business. În plus, el deține funcția de Președinte al Asociației Psihologilor din Brașov și este membru al ATP (Association of Test Publishers), asociația comercială care este lider global în domeniul creatorilor, dezvoltatorilor și utilizatorilor programelor de evaluare folosite în scopul educației, certificării sau licențierii. Blog: www.dorudima.ro
Participă la Conferința Great People Inside alături de colegii tăi și beneficiezi de reducere! Grupurile de câte 3 sau mai mulți participanți beneficiază de un preț special.  De asemenea, clienții Great People Inside sau Dima Consulting Group, membrii ICF, precum și persoanele care au participat la cel puțin o conferință organizată de Great People Inside beneficiază de un discount de loialitate. Rezervă-ți și tu locul acum!
Locatia Evenimentului:
BRAȘOV, ROMANIA
HOTEL KRONWELL
Bulevardul Gării Nr.7, 500203, Brașov Romania
BUCUREȘTI
Str. Sevastopol nr.17 C, 010991
Telefon: +40 213 125 707
Fax: +40 213 125 707
BRAȘOV
Str. Mirăslău nr. 35, 500075
Telefoane: +40 268 426 336
Fax: +40 268 422 907
CLUJ
Str. Calea Turzii, nr. 32
Cluj Napoca
Telefon: +40 749 501 890
CONSTANȚA
Bulevardul Tomis, nr. 338
Bl. C1, sc. A, ap. 1
Telefon: +40 722 269 73