A lineup of world-renowned speakers presenting
new perspectives and best practice tips
Tools, innovations and solutions
Everything you need in order to further
enhance your human capital strategies
Quality business networking
Unique business
networking opportunities
Interact with participants and speakers
in an informal setting!
Our social events are very popular –
and for good reason!
Business development. Connect with the top industry players
A unique concept bringing together business representatives, entrepreneurs, managers, specialists and researchers in the field of human resources from all industries; psychologists, representatives of central and local authorities, large consulting companies, as well as internationally renowned experts from all around the world
Brasov
A captivating and vibrant host city
Anthropologist and Pulitzer winner, Jared Diamond declared that 'a society's ability to grow/expand and make new conquests is directly linked with its availability of embracing innovative and disruptive technologies.'
The labor market is changing and reshaping at an incredible speed, becoming unpredictable and extremely difficult to forecast how the next ten or twenty years will look like.
Nowadays, at the end of each year, it has become the norm to 'start the race' in predicting future trends in any industry imaginable and HR is no different. However, predictions have never been easy to make. As Philip E. Tetlock stated – Professor of Psychology and Political Sciences at both the University of Pennsylvania and at Wharton School of Business – we are facing an uphill battle in our capacity to forecast future trends of events.
Visionaries (innovators and 'early adopters' alike) are the people who are setting new standards, are changing the status quo and creating new possibilities. Just think about the vision necessary to allow people to fly for the first time at the beginning of the 20th century.
We all love the inventions of the Wright brothers, Nikola Tesla, Alan Turing, Henry Ford, Elon Musk and the list could go on and on. Their work have inspired us and challenged our traditional practices making way for the unknown. In the industry of Human Resources, the rhythm of innovation has amounted a great deal of speed in the last/past few years.
Since 2009, over 16 billion dollars have been invested in HR technologies, 6,5 billion of which have been invested just in the last couple of years.
(Source: CB Insights/cbinsights.com).

At this rate, it has been estimated that investments in the global sector of human resource management (HRM) will reach 30 billion dollars in 2025.
In other words, the creation of innovative HR solutions is in a continuous expansion, whilst the field of human resources is currently experiencing a fantastic influx of innovation.
Uncertainty in the current economic climate, the progresses made in the field of technology and the extensive disruptions in the labor market have put organizations under more pressure than ever before.
Although predicting the future is troublesome, it is also essential to identify and to understand social, economic and technological fundamental trends or 'mega trends' which will affect organizations in the next ten to twenty years in order to anticipate and prepare ourselves for the transformations that will supersede.
The Great People Inside Conference: Visionary HR will span over two days and will generate interesting and provocative conversations regarding how digitalization, artificial intelligence, autonomous learning and current technologies are profoundly changing HR management processes and the way in which we can create a future revolving around people.
Discover new approaches on how to manage the 'multigenerational' workforce which is continuously changing, explore the impact of the emerging gig economy as it continues to reinvent the meaning of hiring, discuss in
regards to building a strong employer brand in the current competing for talents environment, understand the importance of employee engagement from the profitability standpoint of each organization.
Representatives of the Top 1000 Romania's Most Productive Companies: www.romaniasmostproductive.ro
Top and Middle Management: CEO, CFO, Sales Manager, Marketing Executives, HR Managers
Specialists in Recruitment, Development, Assessment, Diagnosis, Training, Talent Managers from all industries
Representatives of central and local authorities and Chambers of Commerce
Psychologists specialized in psychology of work and the industrial-organizational field
Entrepreneurs
Coaching in Reshaping the Organisational Culture
Two approaches of HR: Visionary & Risky vs Successful & Safe
Artificial Intelligence – Can it Eliminate Bias in Hiring?
The impact of employee engagement on the organization's bottom line
The role of Leadership in Redefining Corporate Social Responsibility
The impact of the rising 'gig economy' on the industry of HR
Reinventing the Interview: Identifying and attracting high potential candidates
Skill Mismatch: An ever-growing problem or an undiscovered opportunity?
Gamification and HR management: A Step Back or Long-Time Coming?
HR & Technology: how to turn this relationship into a fruitful one
Learning in The Technology Dominated Era
16th Edition Keynote Speakers
Professor of Work and Organizational Psychology
Wilmar B. Schaufeli is a professor of Work and Organizational Psychology at Utrecht University, The Netherlands, and distinguished research professor at KU Leuven, Belgium.
His main research field is occupational health psychology. Initially, he was interested in job stress and burnout but currently he also focuses on positive occupational health, notably work engagement. He is one of the authors of the Job-Demands Resources model, which is currently the most popular model in occupational health psychology.
With over 500 articles, chapters and books, Dr. Schaufeli is a prolific Highly Cited Researcher, ranking among the top 1% in his field. Dr. Schaufeli is a fellow of the European Academy of Occupational Health Psychology, a licensed occupational health psychologist, and also works part-time as an organizational consultant.
Profile page: www.wilmarschaufeli.nl.
Chief Executive Officer –
Association of Test Publishers (ATP)
William G. Harris serves as the Chief Executive Officer of the Association of Test Publishers (ATP), the leading global trade organization for publishers, developers, and users of assessment programs for the purpose of education, certification, and licensure. Dr. Harris (G) holds a doctorate from the University of Massachusetts at Amherst, an MBA from Duke University, and an Honorary Doctorate from Excelsior College where he is an emeritus member of the Board of Trustees.
He is also a licensed psychologist. Dr. Harris is an internationally recognized advocate and expert for the assessment community on data protection, privacy, copyright, and technology-based assessment standards. Dr. Harris's responsibilities include the development and execution of the ATP global strategic plan. Under his leadership ATP is well established in the following regions: Asia, Europe, India, and North America.
Dr. Harris serves as the catalyst for the successful publications of many key ATP initiatives, including the Operational Best Practices for Statewide Large Scale Assessment Programs (OBP), the General Data Protection Regulation (GDPR) guidance for the global assessment community, the Journal of Applied Testing Technology (JATT), and a series of world-class test security and data protection documents. Dr. Harris was a doctorate-level assistant professor of measurement and program evaluation at the Illinois Institute of Technology (IIT; Chicago, Illinois). He played an integral role in creating a highly competitive curriculum for IIT new doctoral program in clinical psychology program and in ensuring the program's accreditation at both the national and regional levels.
Founder & President – Sensory Logic
Dan Hill will be a Key Note Speaker at the Great People Inside Conference 'Visionary HR' 9-10 October 2019 at Kronwell Hotel, Brasov Romania. Dan is an internationally recognized expert on emotions as captured through the facial coding tool made famous by Gladwell's bestseller Blink and Fox's hit series "Lie to Me." Five of the seven universal, core emotions facial coding reveals were also highlighted in Pixar's Inside Out. Dan's work spans applications from market research to legal, behavioral finance, and professional sports as well as to analysis of executives, politicians and cultural icons in serving as a facial expressions biographer of famous, newsworthy individuals.
Dan has appeared on TV on CNN, PBS, Fox, MSNBC, CNBC, Bloomberg TV, ESPN, Tennis Channel, NBC's "The Today Show" and ABC's "Good Morning America." Radio appearances include the BBC and NPR's "Marketplace." Besides a front-page profile in The New York Times, other print and web coverage runs the gamut from The Wall Street Journal, USA Today, Fast Company, Politico, Advertising Age, Kiplinger's, Allure, and China Forbes to Reuters. Dan has been a highly successful speaker before audiences in over 20 countries.
In addition to being the recipient of 10 U.S. patents related to facial coding, the tool Dan brought into market research as a pioneer in the field, Dan is the author of five books: Body of Truth: Leveraging What Consumers Can't or Won't Say (Wiley & Sons 2003), Emotionomics: Leveraging Emotions for Business Success (Kogan Page 2008), Face Time: How the 2008 Presidential Race Reveals the Importance of Being On-Emotion in Politics, Business and Life (Adams 2008), About Face: The Secrets of Emotionally Effective Advertising(Kogan Page 2010), and On-Emotion: Salvaging Market Research (Adams 2013).
Lately, Dan's been busy writing books. One appeared last year (Famous Faces Decoded: A Guidebook for Reading Others) and two others are moving toward publication: Two Cheers for Democracy (a study of both U.S. presidents and notable foreign leaders from the past century) and First Blush (a study of people's quick, intuitive reactions to famous art, using eye tracking and facial coding).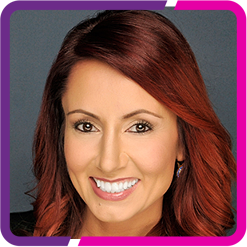 1
Cicek is the current Board Chair of the Association of Test Publishers, ATP. Aside from her involvement within ATP, she served two terms as the Chair of the European Region of ATP and was the 2015 Chair of the I/O Division. Cicek Svensson is the Senior Vice President of Business Development and Marketing at Comms Multilingual and is based in San Diego, CA. She is an Industrial/Organizational Psychologist and is responsible for international business development.
She is also on the Advisory Board for the Middle East and Africa Region. She is an active member of the Society for Industrial & Organizational Psychology, the International Test Commission and the Association of Talent Development. Her experience also covers HR-consulting, Change Management, Succession Planning, Brand Development and Strategic Sales. Prior to joining Comms Multilingual, she worked for a Swedish test publisher company where she gained experience in implementing foreign tests into the Nordic market as well as adapting Swedish tests for the international market. She has comprehensive international experience and is fluent in several languages. She has lived and worked in Sweden, Turkey and the U.S.
Senior Vice President – Comms Multilingual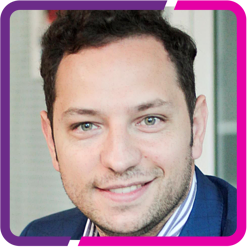 1
Stelian Bogza has an experience of over nine years in banking and finances, specifically in the business-to-business, marketing and sales division. In August 2009, he began his collaboration with Citibank as a Business Development & Cards Partnerships Manager, focusing exclusively on the B2B division – marketing and sales strategies for bank cards. During the four years in which he occupied this position, he implemented and managed the biggest sales network in the local banking sector: 450 retailers with over 2000 outlet stores. During that time, he started a partnership with the Ministry of Culture, through which Citibank cardholders had unlimited access to 17 of the most visited museums in Romania (the Peles Castle, the National Village Museum, Brukenthal etc), a benefit which proved to be not only unique, but also one of the most used in the banking system. One of the Citibank benefits that he implemented in Romania entailed adapting the international privilege system to include over 100 hotels, restaurants and spas in Romania. Since 2014, he and Adrian Sarbu have developed a unique system of optional benefits for employees in Romania. Stelian's experience in banking along with Adrian's experience in business development have helped them seize the opportunity brought by the outsourcing of services which are meant to motivate employees who want more flexible packages, adapted to their needs.
Commercial Director & Co-Founder – Benefit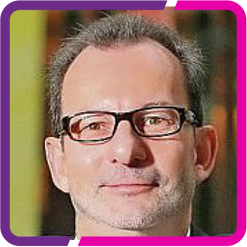 1
Mr. Mueller has had over 16 years of experience working at Mondelez, where he has occupied various positions including the job of CEO of Mondelez Romania from 2005 to 2008. Later on in his career, he was the director of strategy and development at Mondelez International, director at Mondelez for the Czech Republic and Slovakia and also director over Central Europe. Between 2015 and 2016, Mueller has been the president for the global professional business at Jacobs, and since June 2016 he has founded his very own business in consulting.
Managing Director – Heidi Chocolat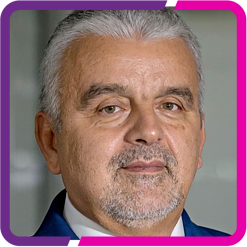 1
Bogdan Merfea is former CEO of Patria Bank (recently merged with Carpatica Commercial Bank), has a management experience of more than 10 years, previously holding CEO in Patria Credit IFN and Raiffeisen Bank Kossovo. In parallel with the development of a university career for over 18 years, Since 1995, Merfea has coordinated projects and programs to support and promote micro-enterprises and SMEs in Romania. Active Promoter of Financial Inclusion, Mr. Merfea is an active member of the European Microfinance Network and is still the Chairman of CA in Patria Credit. Mister. Merfea has extensive academic experience, is a PhD in Mechanical Engineering and a Master in Business Management, and is also attending courses at the prestigious INSEAD School.
Board Member Patria Bank
Chairman of the Board Patria Credit IFN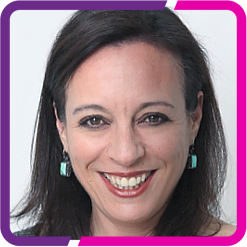 1
Olga is a self-made (social) Entrepreneur and a public figure in Greece with a plethora of life-changing testimonials from people she has mentored, from Senior Employees to young startuppers, with an emphasis on risk groups (refugees, unemployed, edge of poverty). Over the past 20 years, she has designed award winning programs on professional growth, soft skills, pitching skills, goal achievement, human empowerment that have enhanced and advanced the employment, entrepreneurship & lifelong learning of over 4.000+ people. Since 2015 she leads the award-winning Employability Skills Accelerator 'Mellon' (Education Business Award 2016, Bravo! Sustainability Awards 2018 & Best City Awards 2018). She has collaborated with distinguished institutions and key market players, like the Prince's Trust International, International Rescue Committee, European Commission, European Parliament Office in Greece, Stavros Niarchos Foundation, Vodafone Greece and Romania, offering groundbreaking consultations with measurable results and significant social impact. National Editor of the European Commission Standard Eurobarometer (since 2001), she was also selected as the National Ambassador for the World Women's Entrepreneurship Day (2014, for Greece), an initiative of WED NY, in cooperation with the US Interior Ministry. Recognized and Certified Mentor and Executive Coach, as well as Strengths practitioner, (MIT Greece Startup Competition, Mellon Angel, Business Mentors, Enterprising Socially, etc.), she also coordinates Vodafone's (Greece + Romania) Lean In circles, for which Vodafone Greece received 2 Golden Awards (HR Awards 2017 & 2018).
Founder & Managing Partner – Militos SA
Founding Member and Chief Visionary Officer – Knowl Social Enterprise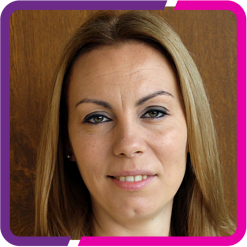 1
Ileana has been working at Mega Image since 2001 accumulating 18 years of experience in retail. She has graduated both Law and Communications and Public Relations universities, she has a Master degree in Public Relations in Marketing from the Bucharest Academy of Economic Studies. She has 9 years of working in the legal field (from 2001 to 2010), 6 years of which (2004 to 2010) she was the manager of the Legal department (2 years of which she was also the HR Director). For 10 years now (august 2008 to present) she has been running the HR department as director, has become a member of the Executive Board and since 2015 she is the Vice-President of HR.
HR Vice President – Mega Image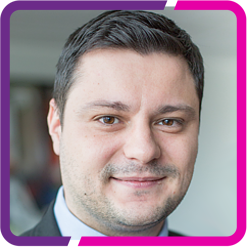 1
Catalin advises Romanian and international clients from a large number of industries (including automotive, chemicals, primary and reinsurance, financial services, generic drugs, real estate, IT, food, media, food production, pharmaceutical) on employment and pensions. He represents clients in front of the Courts of Law and public authorities. He also advises clients on private enforcement and compliance issues and in dawn raid scenarios. In Employment law, Catalin can refer to comprehensive experience and work for the private clients. Also, Catalin is Co-author of the article "The procedural valences of the law principle accesorium sequitur principale", published in December, 2016 in Romanian Jurisprudence Publication, no. 6/2016; Co-author of the article "The order of enforcement, a recurrent theme", published on February 16, 2016 on www.juridice.ro; Co-author of the legislation review and collection of comments: "New Civil Procedure Code. Notes. Correlations. Explanations", C.H. Beck Publishing, Bucharest, 2012 (articles 730 through 817). Furthermore, he is actively involved in numerous socially known issues through the interviews he does on matters such as "Imposed Contributions on doctors" – published in the National Journal: jurnalul.antena3.ro on the 29th of October 2015.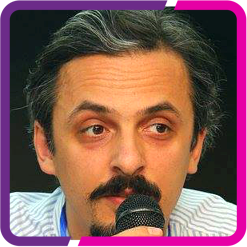 1
Training Manager at Autonom, having studies in Philosophical Counseling, Psychology and Theology, Mihail has always searched for different contexts where he could find and connect with as many people as possible. He holds the belief that, while books give you access to information, human interactions are pure magic. At the same time, he thinks that you can learn something from anybody if you wish to do so.
Training Manager – Autonom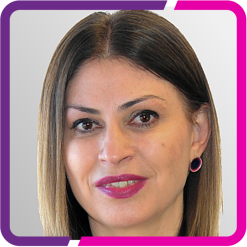 1
Paula has been working in the field of HR since 2002 and starting with the year 2007 she has been coordinating entire teams of HR specialists. She is very passionate about her field of work and, currently she is the HR Manager at Stabilus Romania for nearly 5 years.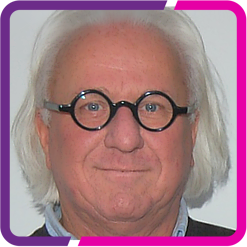 1
Joep is currently the CEO of Aon in the Dutch Caribbean. In the past Joep has led multinational and virtual teams and was heading the Health and Benefits team for over 7 years in CEE. Combining the CCO role and the Business Line Directorship Health and Benefits CEE Joe played the foundation for building the Best Employer Survey and Engagement business in CEE for Aon. In addition, Innovation and new product development (in CEE) in the areas of Employee Benefits and HR Consulting, Benefit Communications, Talent Management, Engagement and other were high on the agenda. All in order to retain and attract the best people for their jobs. This includes the development and implementation of the global employee benefit strategies for multinational companies in CEE. With his experience and many talks to HR and business leaders Joep has his own view on HR in the future.
CEO – Aon Dutch Caribbean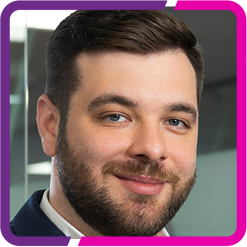 1
He has an experience of over 10 years in Product Management and Business Development in industries such as banking and employee benefits. Andrei started his career as a Product Manager at Citibank back in 2006 where he has launched numerous loaning solutions, the first ever card in Romania with the possibility of cashback and a credit card in co-partnership with Vodafone. Following this experience he has continued to develop products and solutions at UniCredit Bank where he has coordinated the credit card team. Given his tremendous appetite for digitalization, innovation and various paying tools has determined him to change his main domain of activity and join a niche which was having a more rapid growth rate. Hence, in the past 3 years he has been part of the managing team of Edenred Romania, as a Development Director, time in which he has initiated and implemented projects together with the local team such as: mobile app MyEdenred, e-contracting, opening a new line of business in the Republic of Moldova, the Edenred gift card, Apple Pay, acquiring Benefit Online and many more. In May 2019, he has accepted a brand new challenge from Sanopass to join their team as co-founder. Sanopass represents an innovative, simple and fast alternative at acquiring medical memberships that offer you the freedom to use the independent clinics and private medical practice.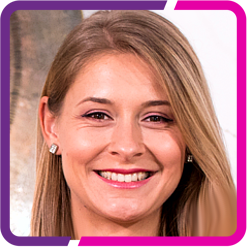 1
Armina is a self-discovery and personal development fanatic, who understands happiness comes from the "withinside", a brutally honest truth-seeker, who believes we should avoid the comfort zone even more than the friend zone, an avid reader with a sense of humor, who thinks the playfulness of life is what makes it worth living and a disruptive professional who helps organizations turn their culture into popular culture for their people. Over the past five years, she has been working on creating the perfect recipe for a successful and happy life, in which limitations become opportunities for growth, fears spur change and regrets inspire gratitude. She is now sharing her breakthrough with the world, empowering people to kick-start their true, authentic selves.
Corporate Wellness Consultant – Aon Romania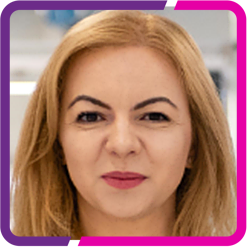 1
Violeta Balint is a University of Letters graduate in Sibiu and she has many specialties in management, human resources, finance, communications and operations, whilst also being certified in SPHR since 2013. She has a 14-year experience in HR, 12 of which in management positions. Violeta Balint's professional activity has taken place in numerous French and German global companies such as: SOMAREST (part of the LVMH group), DRAEXLMAIER and HUTCHINSON. Mrs. Balint has worked exclusively in production companies in manufacturing areas such as: automotive, luxury goods and electronics and believes that her personality best fits with the manufacturing industry. In 2018 she joined the Sennheiser team as the HR & Plant Deputy Director, her main task being to build a team and implement the necessary processes and the Sennheiser organisational culture in the factory in Brasov. Starting with April 2019, she has accepted a new role and challenge in her career by becoming the General Manager for Sennheiser Romania. The company was originally founded in 1945 and has become one the most important manufacturers of headsets, speakers, microphones and wireless transmission systems in the world. In 2017 the company decided to open a production factory in Brasov-Ghimbav. She considers herself a peoples' person and what truly motivates her is the experience and the lessons that she can learn from people on a daily basis. She believes she is an atypical GM coming from a "non-technical" background and her expertise includes creating 'bridges' between people of various professional backgrounds.
General Manager – Sennheiser
CPO Great People Inside / CEO Great People Inside Romania
Doru Dima is a successful entrepreneur and manager, with an experience of over 20 years in the HR field and a PhD in Work and Organisational Psychology. Founder and CEO of Dima Consulting Group and Profiles International Romania, both positioned as some of the top consulting service providers in the HR and Management fields, he implemented and managed a series of important national and international  projects.
Starting with May 2015, he became Co-founder of  Great People Inside, an international company that develops customised human resources assessments adapted to the specific of the company and the job, being a unique concept in the HR industry. The assessments are provided through a new technology, a Talent Management Assessments Solutions Platform, cloud-based, configurable and 100% customisable.
The Great People Inside Platform -GR8PI has won the Eurocloud Romania 2016 award for "Best Cloud Startup". During the past year, Great People Inside has evolved from a local Bucharest based Cloud startup up, to an international company headquartered in Singapore with subsidiaries in Europe, United Arab Emirates , Asia and North America.​
Doru Dima is the author of several books considered reference works in the Business field, including: "40 de Strategii pentru succesul în afaceri",  "Dicționar General de Afaceri", "Managementul Resurselor Umane" and he also collaborated in the writing of many courses, books and science and business papers.
On top of that, he is the President of ​The Romanian College of Psychologists​ in Brasov, Member of The ​Romanian Association of Psychologists, President of its branch in Brasov and the reprezentative of the Romanian College of Psychologist in the European Federation of Psychologists' Associations ​(EFPA).
Invite your colleagues and register as a group to get a discount!
For Great People Inside or Dima Consulting Group clients and ICF members, as well as for people who have participated in at least one conference organised by us, we offer Loyalty Discounts.
Venue:
BRAȘOV, ROMANIA
HOTEL KRONWELL
Bulevardul Gării Nr.7, 500203, Brașov Romania
BUCUREȘTI
Str. Sevastopol nr.17 C, 010991
Telefon: +40 213 125 707
Fax: +40 213 125 707
BRAȘOV
Str. Mirăslău nr. 35, 500075
Telefoane: +40 268 426 336
Fax: +40 268 422 907
CLUJ
Str. Calea Turzii, nr. 32
Cluj Napoca
Telefon: +40 749 501 890
CONSTANȚA
Bulevardul Tomis, nr. 338
Bl. C1, sc. A, ap. 1
Telefon: +40 722 269 73